Celebrate your wedding day in style with Bramleigh Estate's innovative Hamptons wedding menu expertly curated by our award-winning team of chefs.
Our executive chef Chandra Kumar transforms fresh, local produce into mouth-watering fare. From grazing tables and canapés to exquisitely presented entrées, main meals and desserts, your guests will enjoy some of the finest dining in the industry served directly to their table.
Our team provides the best in dining. We love food and know that the memory of a wonderful dining experience with friends and loved ones can linger with you for years. We understand how food can transform a room, inspire a reaction, make a memory and form deep connections.
Not one cuisine or style, our dishes explore unique combinations of flavour, origin and technique. And as we are always evolving, so too is our wedding menu. We use local, seasonal ingredients to create abundant feasts that are both gorgeous to look at and packed with flavour.
Our team can cater for any dietary requirement and will ensure that both you and your guests are well fed and cared for.
And with our attentive staff at hand, your family and friends can relax as they eat, drink and dance the night away.
Book an inspection today and discover first hand how we can create your dream wedding day.
ENTREE
Shichimi Togarashi Calamari (NF/Slightly Spicy) Asian slaw – Pickled bamboo – Sweet mango & lime dressing – Creamed molasses
Tempura Scallops (NF) Squid ink & black garlic cream – Yuzu vinaigrette seaweed salad – Ancho chilli jam
Maple & Hickory Baked Huon Salmon (GF/NF) Local beets – Garden beans – Wasabi sour cream – Green tomato relish
Gnocchi Smoked Chicken (NF) Garden peas – Cherry tomatoes – Baby spinach – Salsa verde – Aged balsamic glaze
Smoked Duck Breast (GF/NF) Goats curd mousse – Kale & roast capsicum salad – Balsamic beet chutney
Crispy Pork Belly (GF/NF) Celeriac & fresh garden greens remoulade – Hoisin mascarpone cream – Calvados goji berries
Asian Style Rare Beef Salad (GF/DF/NF) Tatsoi horiatiki salad – Bean shoots – Yuja tea balm – Coriander chilli dressing
Gnocchi Borlotti Beans (NF/V) Primavera vegetables – Heirloom tomatoes – Smoked caciocavallo – Black garlic pesto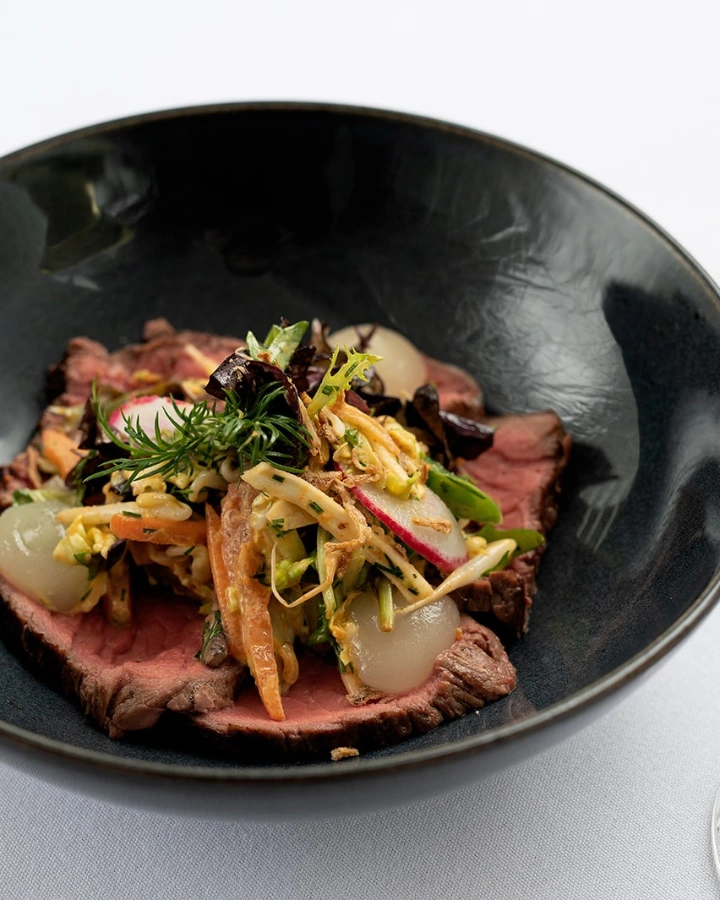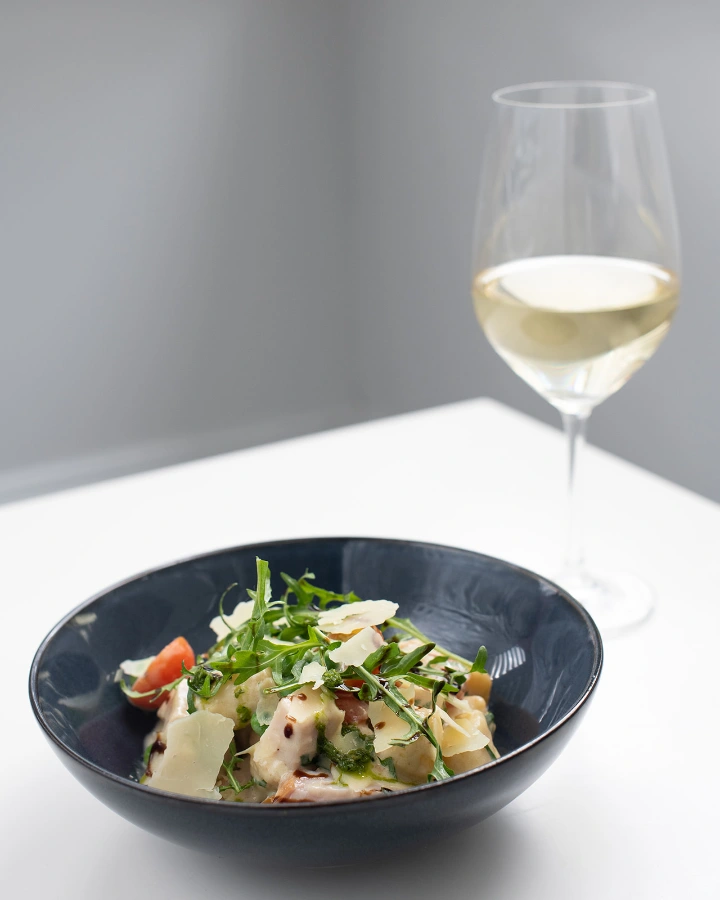 MAINS
Crumbed Barramundi (NF) Chilli garlic crab mash – Oyster glaze – Lemon dill cream
Lemon Thyme Marinated Chicken (GF/DF/NF) Seared oyster mushroom – Pickled sweet potato puree – Pinot noir jus
Ginger & Orange Confit Duck (GF/DF/NF) Cranberry crushed russet potatoes – Asparagus spears – Marsala pan gravy
Sichuan Pepper Pork Striploin (DF/NF) Lime braised tri-quinoa – Steamed broccolini – Wild berry jus
Marsala Braised Lamb Shank (GF/DF/NF) Idaho potato & celeriac mash – Roast beet puree – Rosemary jus
Slow Cooked Rump of Lamb (DF/NF) Sumac dill sweet potato – Glazed beans – Pickled mushrooms – Red wine jus
Grain Fed Beef Tenderloin (DF/NF) Pink pepper crust – Thyme pumpkin hummus – Caramelised artichoke – Madeira glaze
Gnocchi Piemontaise (NF/V) Forest mushrooms – Heirloom tomatoes – Crumbed ricotta – Wilted tatsoi
* Mains served with two shared sides dishes, one hot and one cold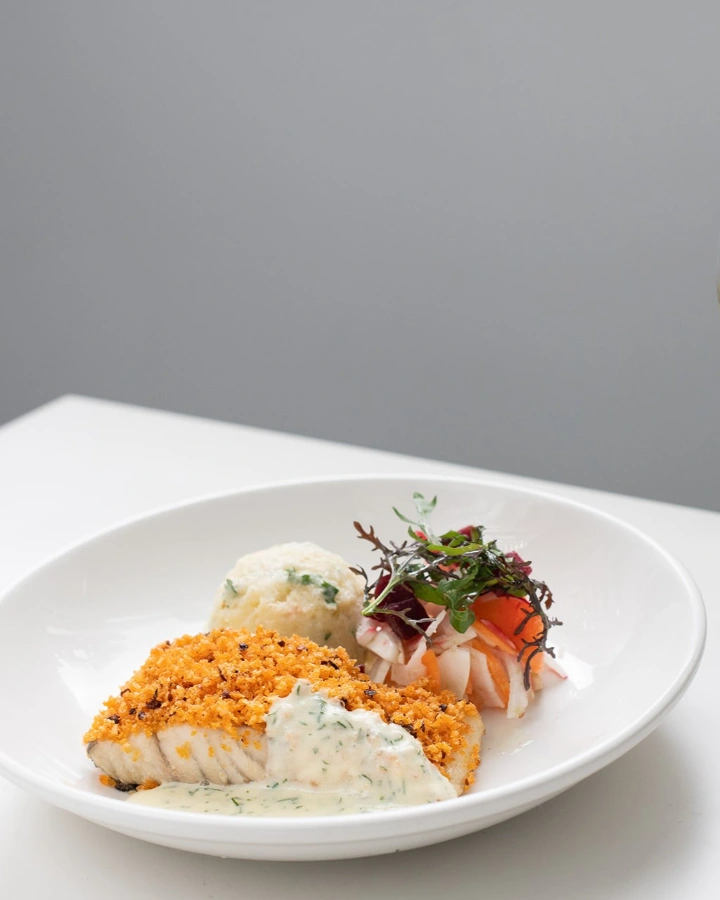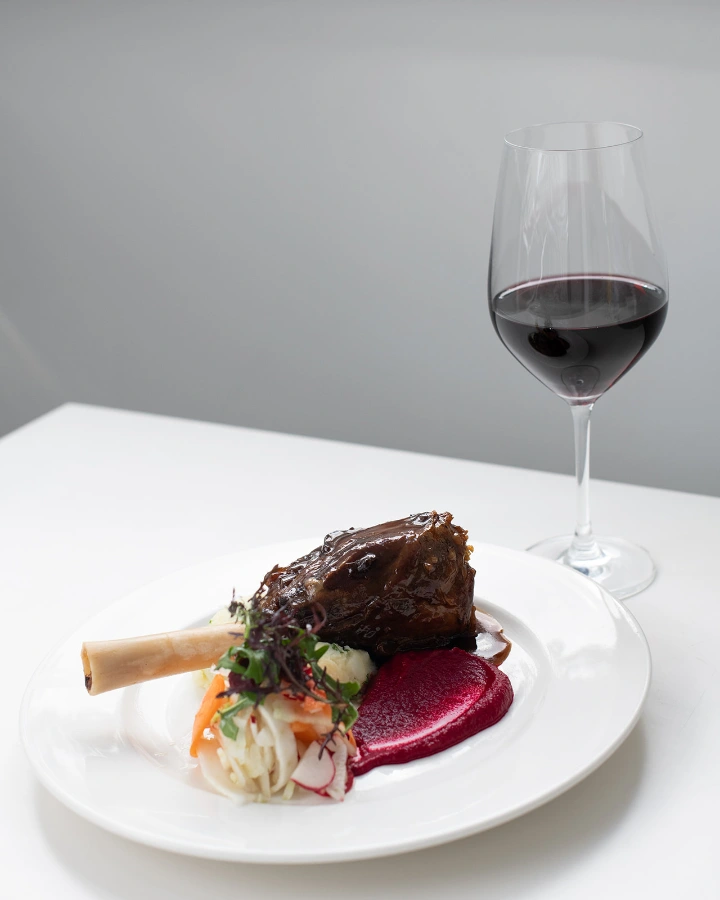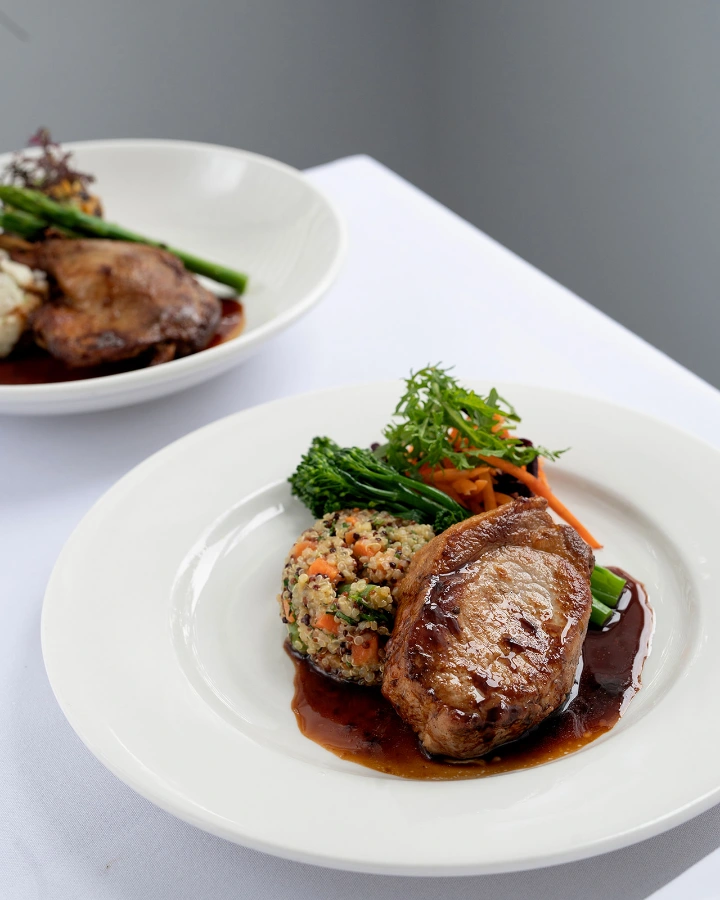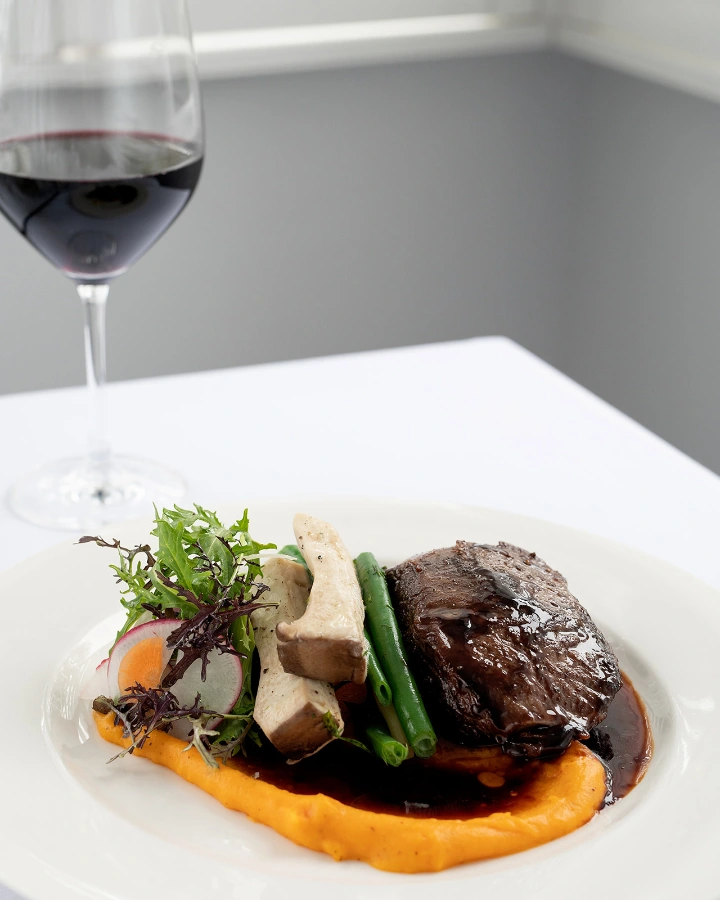 SHARED FEASTING MAINS
Braised Pork Scotch Roast (GF/NF) Roasted root vegetables – Confit garlic – Fried sage – Pink Murray River salt flakes
Slow Roasted Lamb Shoulder (GF/NF) Mint tzatziki – Confit garlic – Fried rosemary – Maldon sea salt flakes
Roasted Beef (GF/NF) Roasted vegetables – Confit Garlic – Fried thyme – Maldon sea salt flakes
* Shared platters served with one hot side and one cold side – only available on round tables
HOT SIDES
Steamed Butter & Green Beans (GF/DF/NF/V) Rocket pesto – Garlic crisps
Cauliflower Quattro Formaggio (GF/NF/V) Salsa verde – Korean pepper
Roast Baby Chat Potatoes (GF/DF/NF/V) Pink Murray River salt – Fried marjoram 
Feta Parsley Mash (GF/NF/V) Truffle oil – Sumac spice
Lemon & Manuka Honey Roasted Japanese Pumpkins (GF/DF/NF/V) Olive crumbs – Roasted cumin
COLD SIDES
Greek Horiatiki salad (GF/NF/V) Tomato – Cucumber – Capsicum – Kalamata olives – Feta – Pickled radish
Asian Slaw (GF/DF/NF/V) Garden greens – Japanese mayo – Korean pepper
Poached Pear & Granny Smith Apple (GF/NF/V) Mesclun leaves – Blue cheese cream
Crisp Garden Greens (GF/DF/NF/V) Mizuna, tatsoi, green & red oakleaves – Cucumber – Carrot – Red onion – Ponzu vinaigrette
Herbed Lemon Pearl Couscous (DF/NF/V) Roasted veggies – Cucumber – Tomato
DESSERT
Black Forest Dome (NF) Macerated berries – Passionfruit glaze – Manuka honey flakes
Valencia Orange & Almond Cake (GF) Mascarpone vanilla cream – Fresh berries – Green lime dust
Lemon Tart (NF) Dehydrated blood orange – Dark chocolate peta crispies – Midori cream
Chocolate Tart (NF) Berry compote – White balsamic crisps – Stone fruit coulis
White Chocolate & Mango Mousse (NF) Wild berry glaze – Chocolate soil – Lemongrass powder
Chocolate Gateaux (NF) Passionfruit balm – Kaffir lime powder – Vanilla cream
Chef's Choice of Three Mini Roaming Desserts May include items such as Lemon Meringue Tartlet – Coconut Raspberry Pastry – Salted Caramel Tartlet
GF – Gluten Free     DF – Dairy Free     NF – Nut Free     V – Vegetarian
All dishes are seasonal and may be subject to change.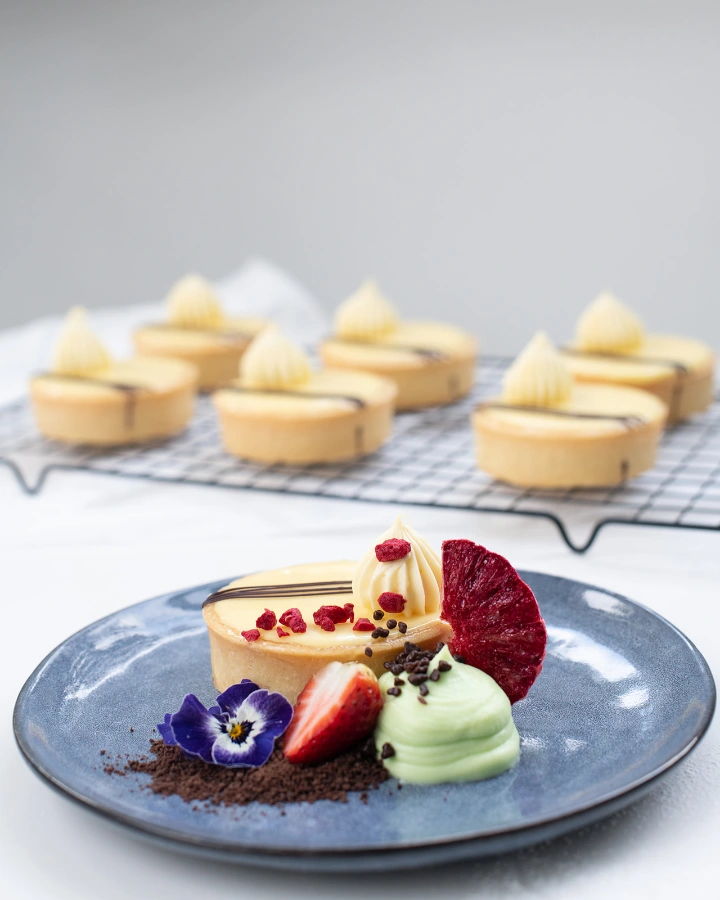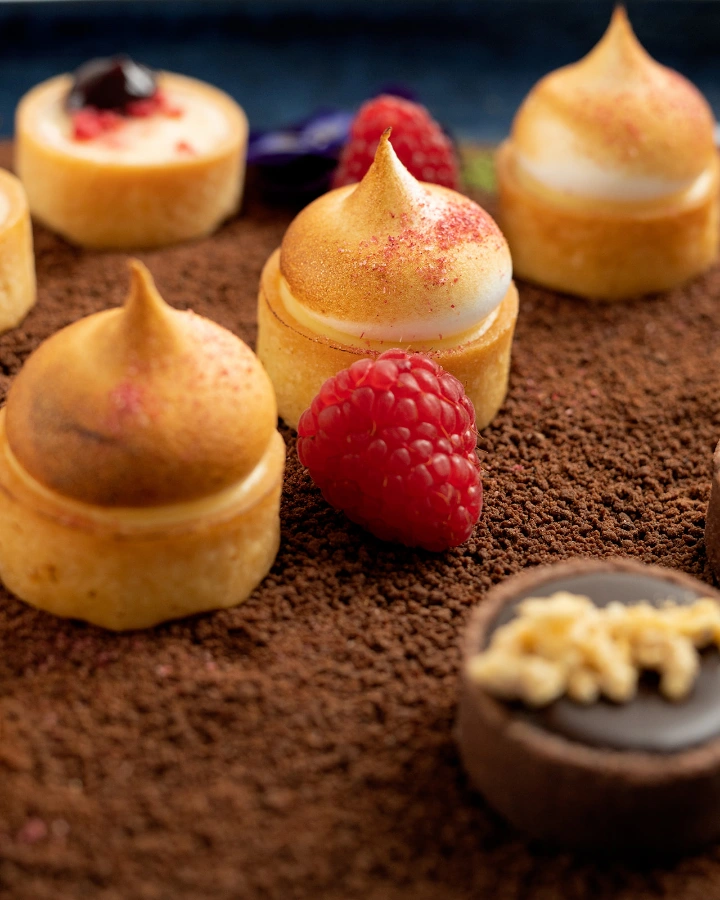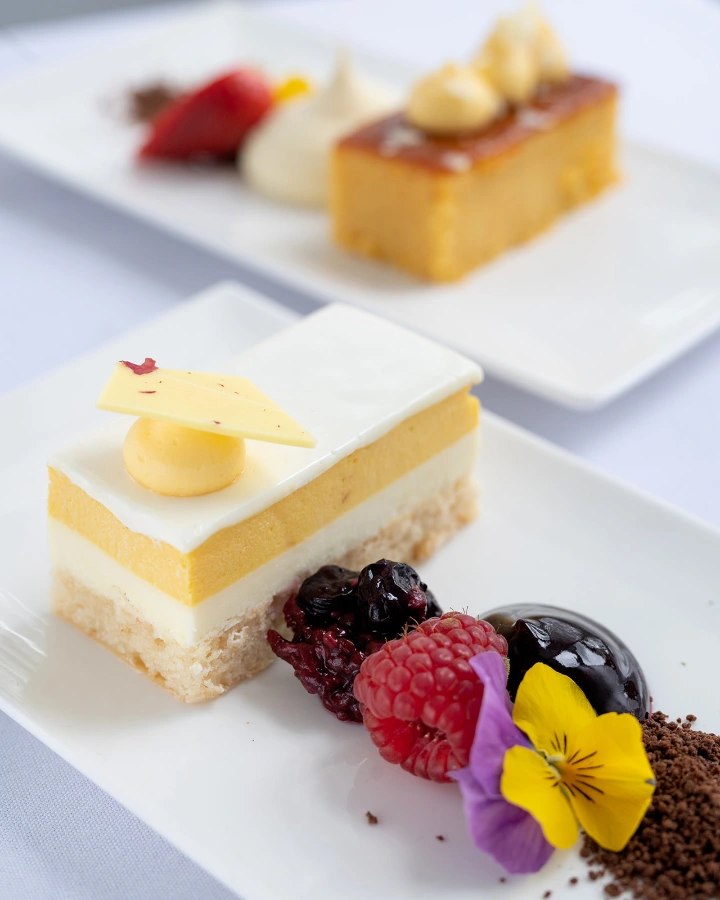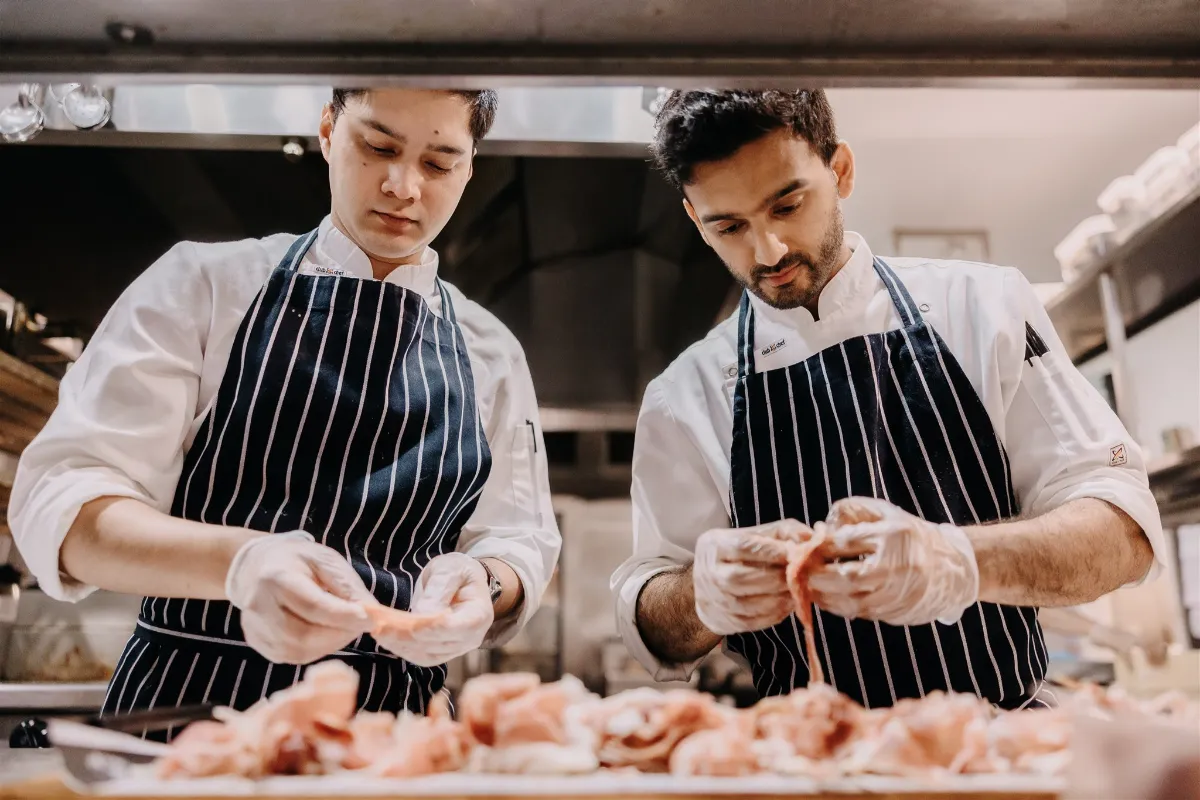 Your luxury wedding experience starts here