Congratulations! You're engaged and with such a long guest list it's now time to start planning your large wedding! Or maybe you're organising a big wedding because you thought you could get away with a smaller wedding of 150 or so guests, but once you started listing everyone you need to invite it escalated to a 250 guest extravaganza! Time to start looking for a large Melbourne wedding venue.
Of course there are so many things you now need to consider. After all, this is a once-in-a-lifetime chance to create a grand celebration that won't be forgotten by either yourselves or your friends and family.
Many wedding venues claim to cater for large numbers but it can be challenging to find a unique venue that you not only love, but will also create just the right atmosphere for your special day.
Introducing Bramleigh Estate, a multi award-winning large wedding venue in Melbourne that's perfect for celebrations of between 100 – 320 guests.
Large Wedding Reception Room
One of the most important aspects of your wedding venue is its capacity. Especially when hosting a large wedding reception, it's essential to ensure you can seat all your loved ones comfortably but still maintain the feeling of a private and intimate celebration with family and friends.
As one of Melbourne's best large wedding reception venues, Bramleigh Estate's spacious, light-filled dining room is ideal for sit-down Melbourne wedding receptions of between 100 and 320 guests.
Hamptons inspired, our large dining room boasts beautiful white-on-white table décor, exposed beams and soaring ceilings – the perfect wedding canvas for you to stamp with your own distinctive style.
Expansive floor-to-ceiling windows take advantage of the breath-taking views of our timeless property and the ranges beyond so your wedding photographer will be spoilt for choice photo spots across our 10 acre property.
Our large reception room can also be arranged in numerous different configurations. Our most popular floorplans use round tables seating up to 12 guests arranged around a large central dancefloor. The flexible, open-plan space allows you to have a wedding party table of any length and your band or DJ can set up in many locations throughout the room.
It's important to take time out to breathe and recharge your battery on your wedding day. That's where our luxurious VIP retreat comes in. Relax and enjoy a moment of privacy during your wedding celebration before emerging refreshed to make your grand entrance.
And with our many attentive staff at hand, your family and friends can relax as they eat, drink and dance the night away. Why not download our Hamptons Wedding Package brochure today to learn more.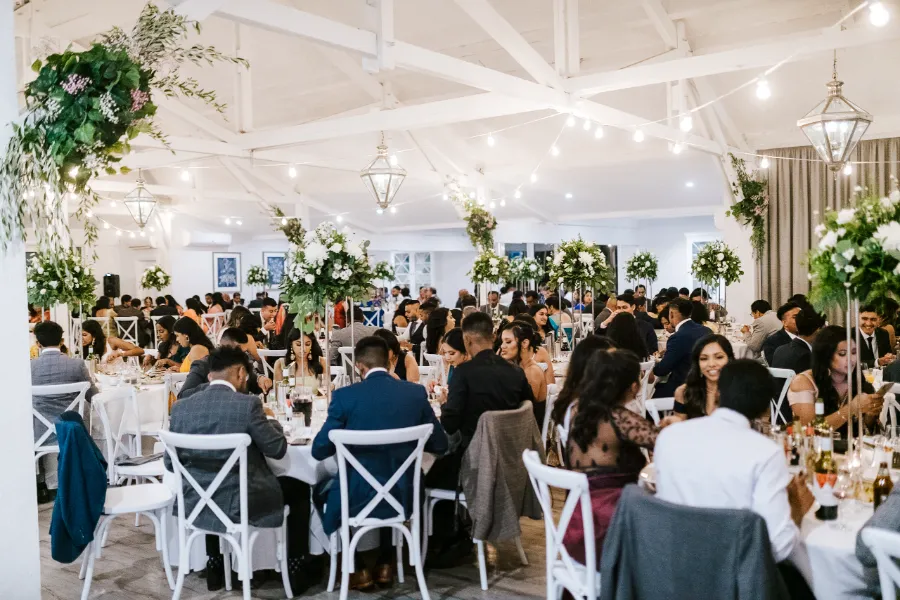 Wedding Ceremony Locations
At Bramleigh Estate we offer both outdoor and indoor complimentary ceremony locations. Our stunning timber deck provides an expansive outdoor setting for your large wedding ceremony. Surrounded by soaring gum trees and romantic festoon lighting, it provides the perfect backdrop to pledge your love amongst your many family and friends.
Our outdoor wedding ceremonies include 100 white Americana chairs, a classic white wedding arbour and a signing table. And with panoramic views of our timeless 10-acre property, there's plenty of room for everyone to relax both before, during and after the 'I Do's'.
If the weather isn't cooperating on your big day, or you're planning a stunning winter wedding, an indoor ceremony in front of our majestic stone fireplace is the epitome of romance. Exchange vows in front of the candlelit hearth surrounded by loved ones. And most importantly, enjoy an intimate ceremony that is as unique as you are.
Your wedding comes complete with a team of professional wedding specialists and your own wedding party concierge. Above all we ensure that every detail is perfect, from the moment your guests arrive to the coordination of music as you walk down the aisle.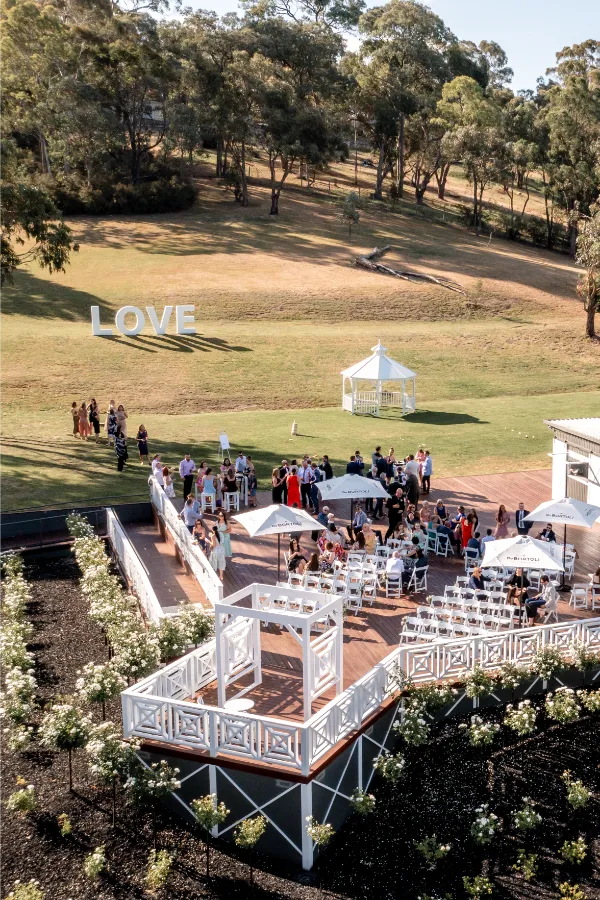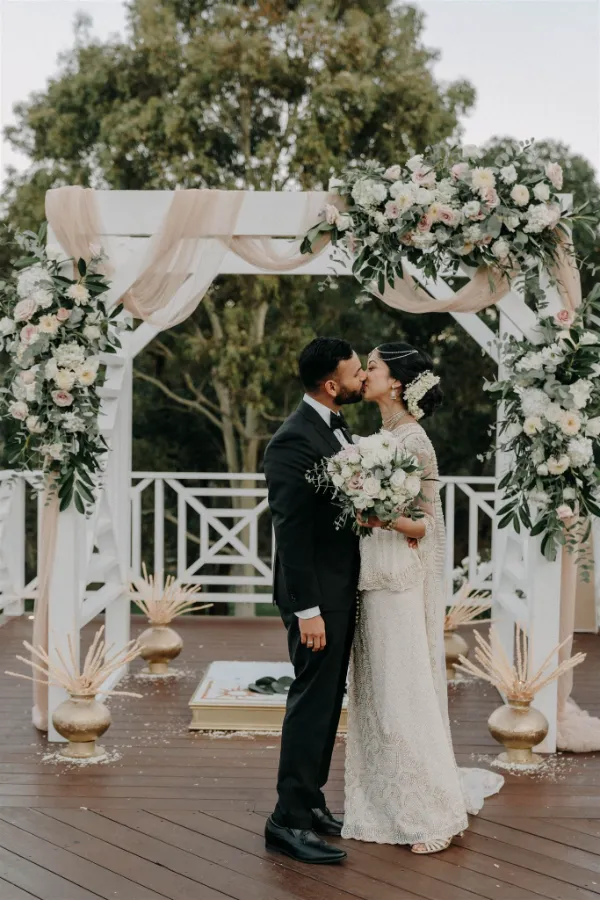 All-Inclusive Wedding Packages
You'll be pleasantly surprised at all the wonderful inclusions in our Hamptons Wedding Package. We've covered just about everything you'll need to host your large wedding so you won't need to worry about hidden costs or extras. 
Our full-service Hamptons Package includes exclusive use of the venue, an award-winning canape and three-course meal selection, hosted bar service for your entire reception, fresh white floral centrepieces, cake plinth, linen and napkins, plenty of on-site parking…..and the list goes on.
Plus we have an extensive list of trusted vendors, including florists, photographers, DJs and bands to make your wedding planning process as smooth and efficient as possible.
Having a team of experienced wedding coordinating staff at hand allows you to ask for advice about everything from styling and set up of the venue, to meal selections and timing so that your big day will turn out exactly how you envision it to be. Let us provide you with expert advice on all the little things that may not have even made it to your already giant to-do list. Our experienced team will guide you every step of the way to ensure you create a stunning wedding day that not only runs smoothly but also makes a lasting impression.
Download our Hamptons Wedding Package brochure today to learn more about just how easy it is to plan your wedding with Bramleigh Estate!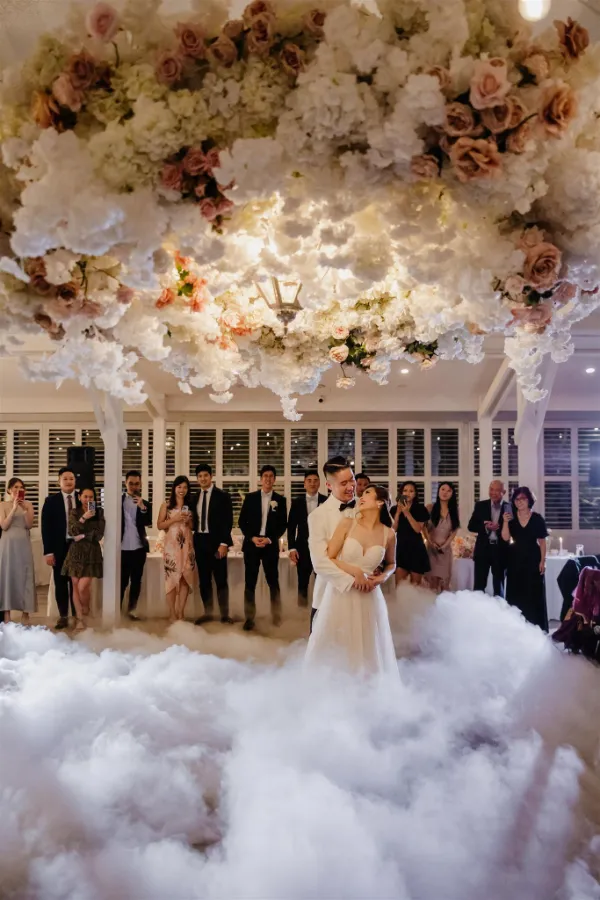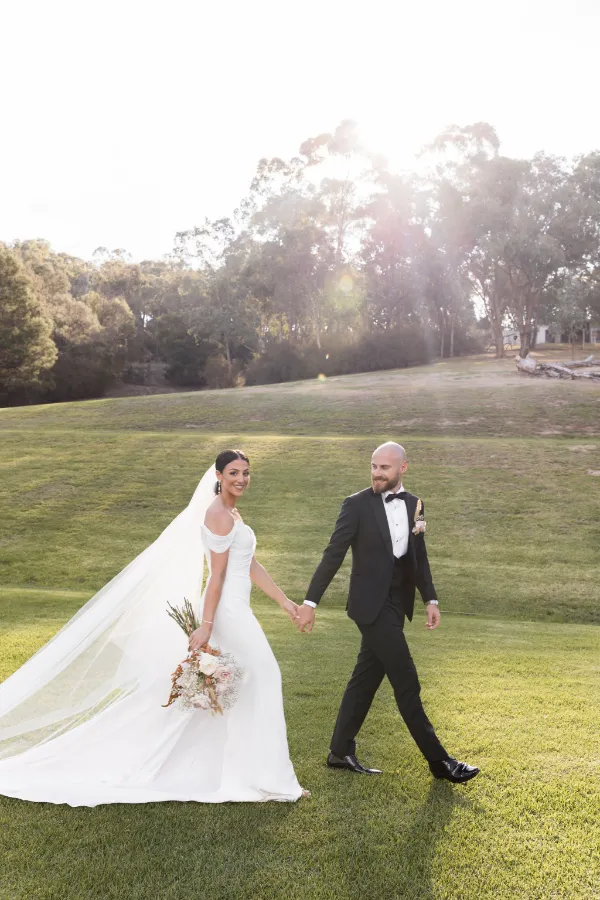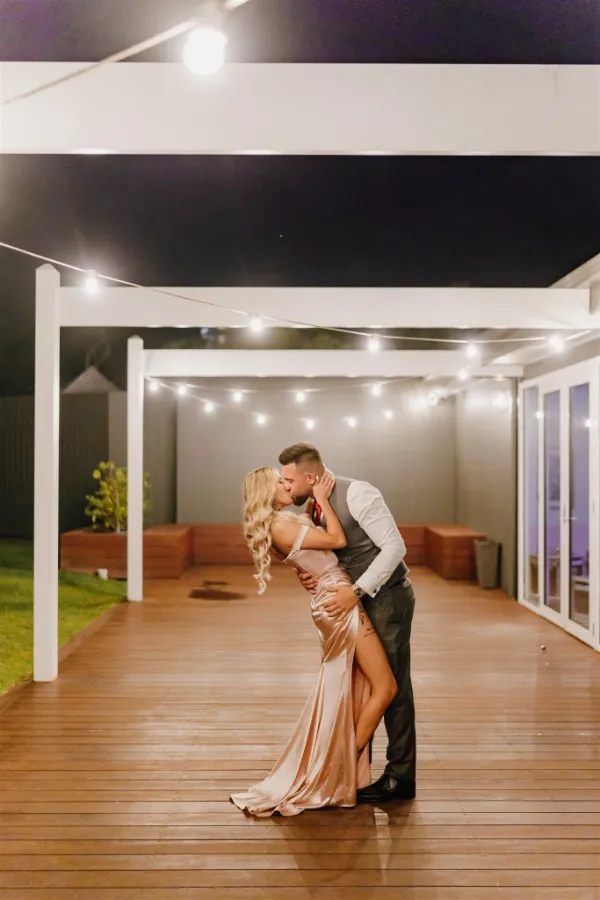 Wedding Menu for Large Weddings
Celebrate your wedding day in style with Bramleigh Estate's innovative Hamptons wedding menu expertly curated by our award-winning team of chefs.
Our executive chef transforms fresh, local produce into mouth-watering fare. From grazing tables and canapés to exquisitely presented entrées, main meals and desserts, your guests will enjoy some of the finest dining in the industry served directly to their table.
We also offer a range of delicious menu upgrades suitable for large weddings including pre-reception grazing tables, seafood, antipasto, and cheese and fruit platters.
And serving all your guests is never an issue with our experience team of attentive staff always at hand.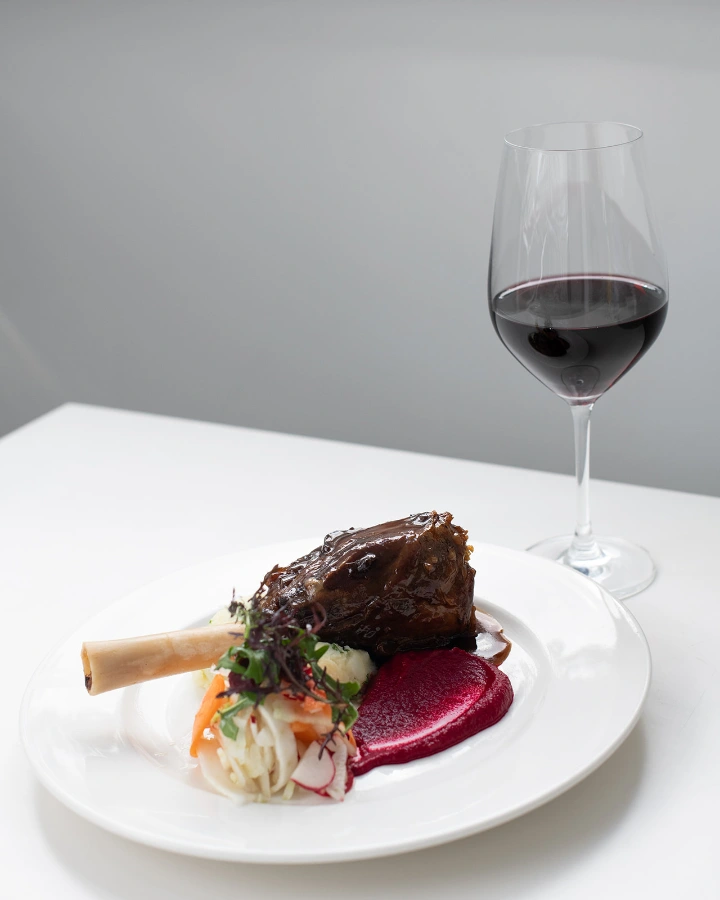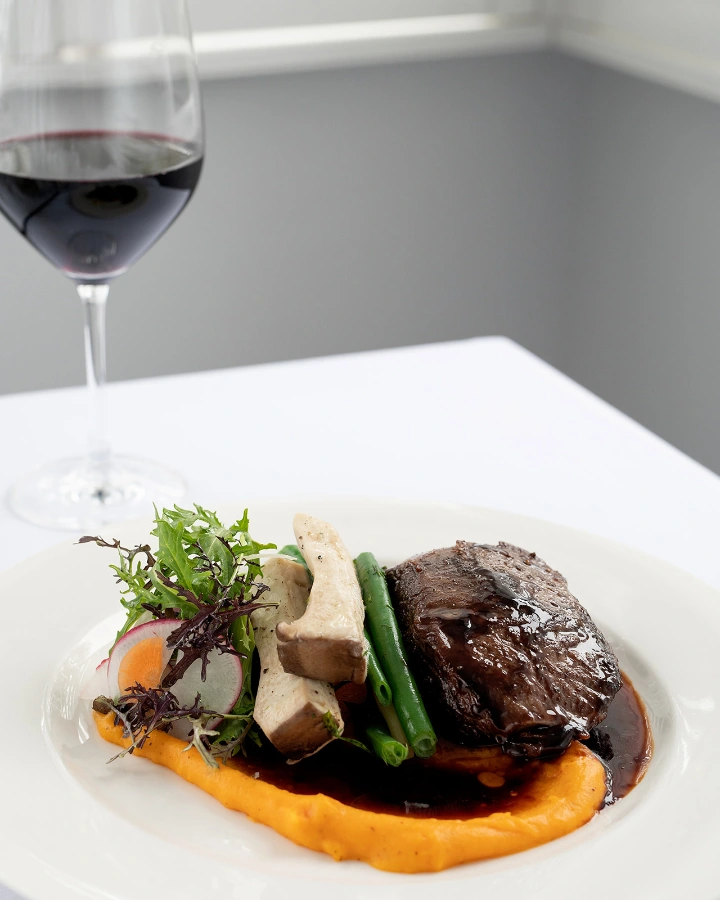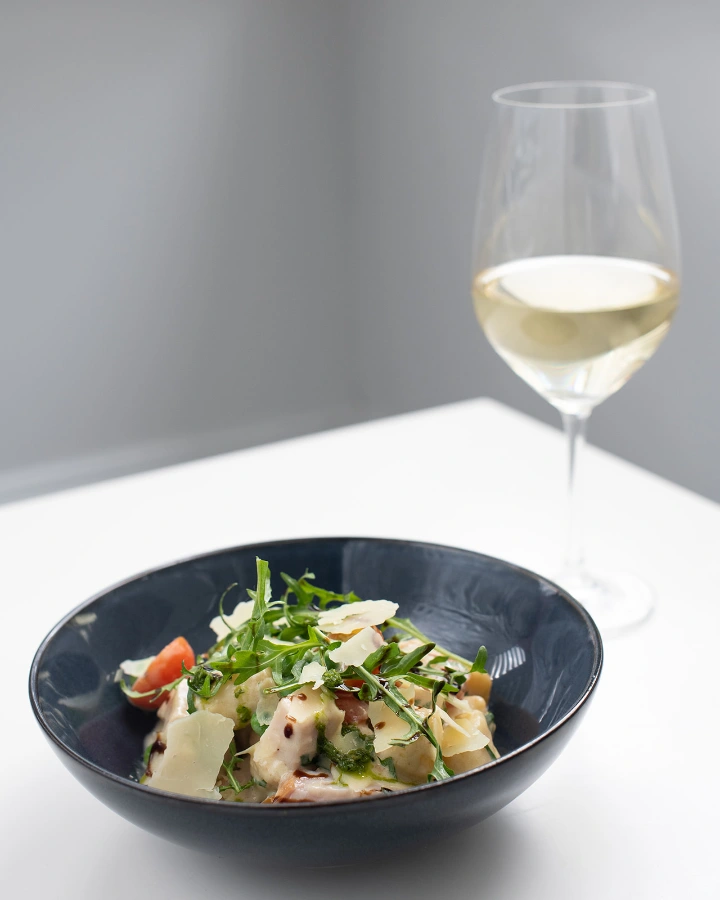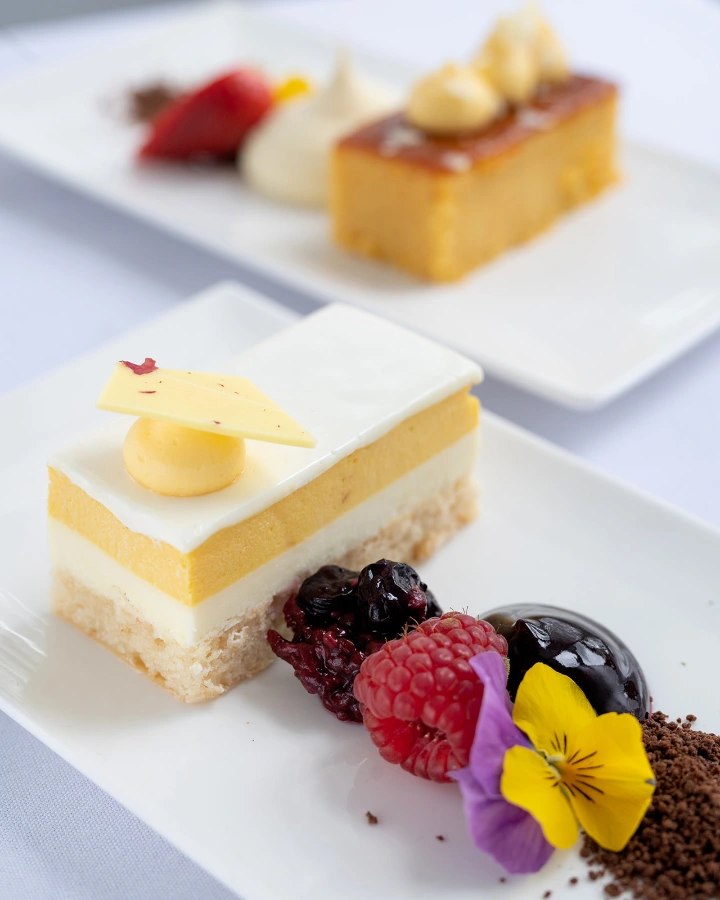 Best Large Wedding Venue Melbourne
No matter your guest numbers or what style of wedding ceremony or reception you are aiming for, Bramleigh Estate can cater for large weddings and also maintain that private and intimate wedding feeling you've been looking for.  
Contact us today and personally experience how our large wedding venue in Melbourne can offer everything you need for a memorable and stress-free wedding day.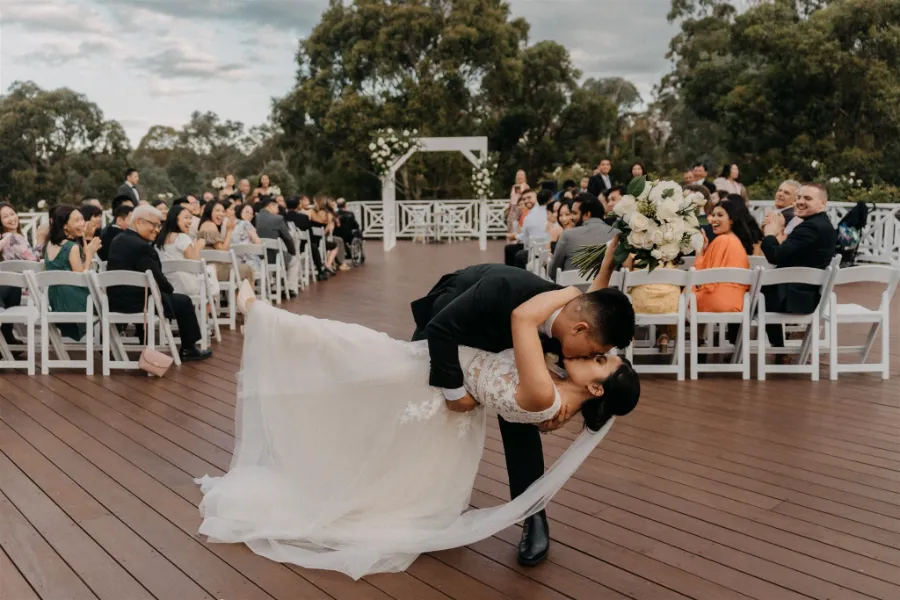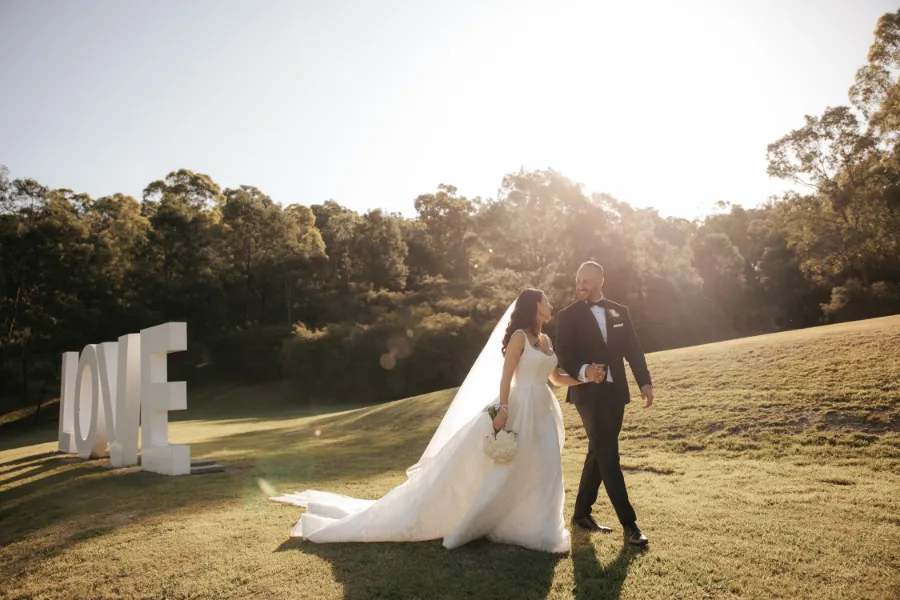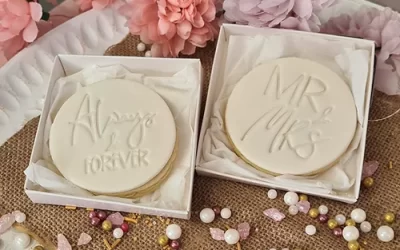 To make sure that your wedding is truly unforgettable, a stylish bonbonniere is the perfect finishing detail that will take your wedding from great to exceptional. Read on to discover our favourite thoughtful and creative wedding bonbonniere ideas.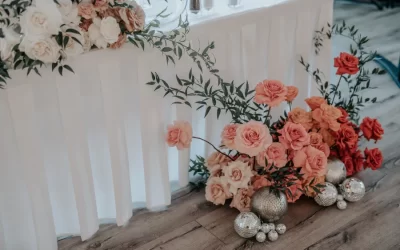 Whether you've been dreaming about your wedding since childhood or just started thinking about what your dream wedding looks like, we've got some inspiration to ensure your big day is perfect.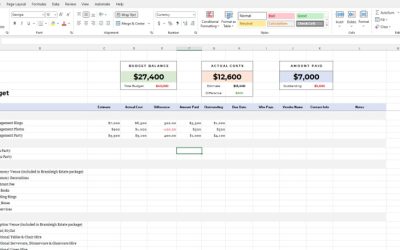 Our free, comprehensive Wedding Budget Template is designed to assist you budget and plan for your wedding and make sure that there are no hidden expenses. Download a copy today!