All You Need To Know About Bonbonniere
Once your initial wedding planning is underway and you have all the essentials set out, it's time to turn your attention to all the other small details that make your wedding day special. While bonbonniere, or guest gifts, aren't seen at every wedding, they are a thoughtful gesture to show your guests your appreciation for them and their role in making your big day the success it will be.
Brainstorming wedding bonbonniere ideas is a great way for couples to get creative amid wedding preparation and planning. Plus gifting your guests a memorable keepsake or a simple treat for being part of your special day will create a lasting memory of your wedding day for them.
The bonbonniere tradition originated from Italian weddings. Early wedding bonbonniere included small lidded jars or boxes that had candies inside. Over the years this gift-giving tradition has undergone many creative changes, becoming a little keepsake for guests that is personalised to the bride and groom.
We all know that planning a wedding is a once-in-a-lifetime experience. To make sure that your wedding is truly unforgettable, a stylish bonbonniere is the perfect finishing detail that will take your wedding from great to exceptional.
Read on to discover our favourite thoughtful and creative wedding bonbonniere ideas.
Bonbonniere Inspirations and Ideas
Plants, seeds and succulents
For couples who want to find a gift that will grow and flourish with love, plants, seeds or succulents can make gorgeous and romantic bonbonniere. Plants are the perfect way to decorate your wedding tables and give your guests a gift that with love and care will bloom into something even more beautiful. You can also create a personalised tag or planter box with your initials and wedding date and a cute saying like 'let love grow' for an extra sentimental touch.
Personalised wine glasses
Wine glasses are one of the most recognisable symbols of celebration. Choosing personalised wine glass bonbonniere will remind your guests of all the reasons they have to celebrate and reminisce about your wedding. You could engrave a note of gratitude, an inside joke, or a sentimental message on the glasses.
Personalised single-serve cocktails
No gift is more appreciated and luxurious at a wedding celebration than a personalised single-serve cocktail to keep the party going long after your reception is over. You can choose one cocktail or maybe a selection to give your guests a more personalised touch. Adding custom labels with your name and wedding date is always an assured way to make your gift a cute little keepsake.
Personalised mini candles
Candles are the perfect romantic wedding bonbonniere. Whether you choose customised candle scents that match your wedding season, theme or personal taste, a candle is sure to be a lovely touch for your guests that will remind them of your special day every time they light it. For example, you could choose a floral aroma if you have your wedding over the summer or a sweet champagne scent to remind your guests of your wedding celebration. Candle bonbonniere will make the perfect gift for any guest that they'll love using again and again.
Edible bonbonniere
As a guest, who wouldn't enjoy finding your spot at a wedding reception and being welcomed to a sweet treat on your table. Whether this is a little box of chocolates or macarons, these tasty little bonbonniere will always bring a smile to your guests' faces.
You can choose from a myriad of macaron flavours packaged in a customised little box that can add a pop of colour to your wedding decorations. Customised cookies are also a popular bonbonniere idea that many couples love for their simplicity. Find a baker who will let your imagination run wild when it comes to choosing designs, shapes and flavours to create the perfect customised cookies for your wedding.
Customised loose-leaf tea or coffee blend
A customised loose-leaf tea or coffee blend is the perfect gift for a couple who loves to experiment with flavours or has an appreciation for the finer things in life. Usually gifted in clear test tubes or little tins, why not choose a blend of flavours that best represent your tastes or personality, making the perfect personal and thoughtful gift for your wedding guests.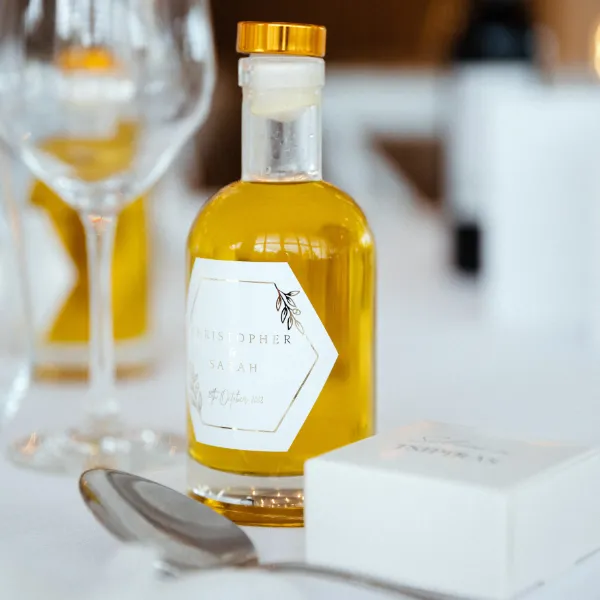 Scratchies
Nothing is more entertaining than scratchies. Even if your guests don't win, it's the perfect way to bring a touch of fun and excitement to your wedding. Why not package your scratchies in cute little envelopes with your initials and wedding date to add extra detail to your wedding table decor.
Donation cards
If there is a charity close to your and your partner's heart, it's always a nice sentiment to include a donation card to let your guests know a contribution has been made on their behalf. This is an excellent option for couples who want to opt for a thoughtful and impactful gift in lieu of a more traditional wedding favour.
Name coasters
Name coasters are the perfect way to not only provide wedding bonbonniere for your guests but also add another layer of detail to your table presentation. You can personalise your coasters with each guest's name and the date of your wedding so they can act as both place cards and a thoughtful, personal gift for your guests to take home! #weddingsavingtip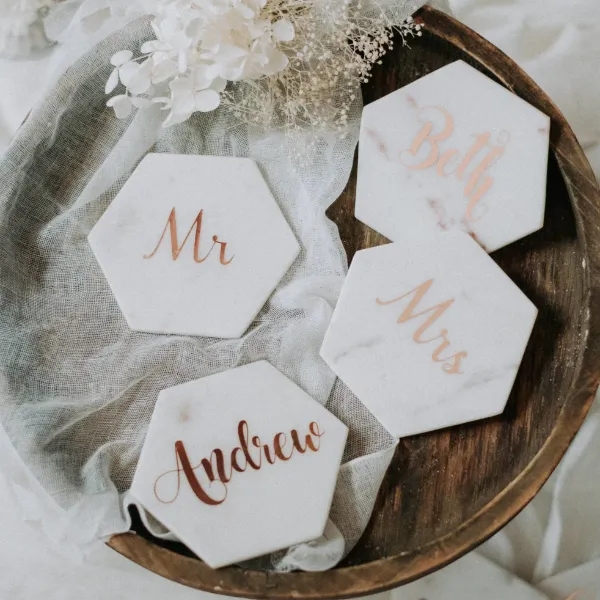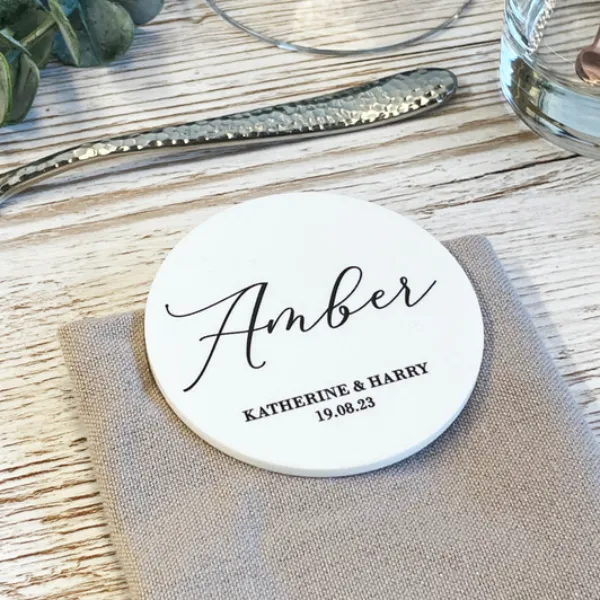 The best wedding bonbonniere are useful gifts that guests will use again after your wedding, or fun gifts that guests will enjoy in the moment (think edible bonbonniere or scratchies). And remember that you are aiming to add a personalised, high-quality touch to your wedding through your bonbonniere. The higher the quality and creativity, the more appreciation and joy your guests will feel when seeing their bonbonniere when they sit down at your reception.
While bonbonniere may seem trivial to some, they are the perfect way to convey your gratitude without any words having to be said. So if you want your guests to leave your big day feeling appreciated and valued for their presence at your wedding, it's worth taking on board some of our ideas to have your wedding bonbonniere raved about long after your final dance!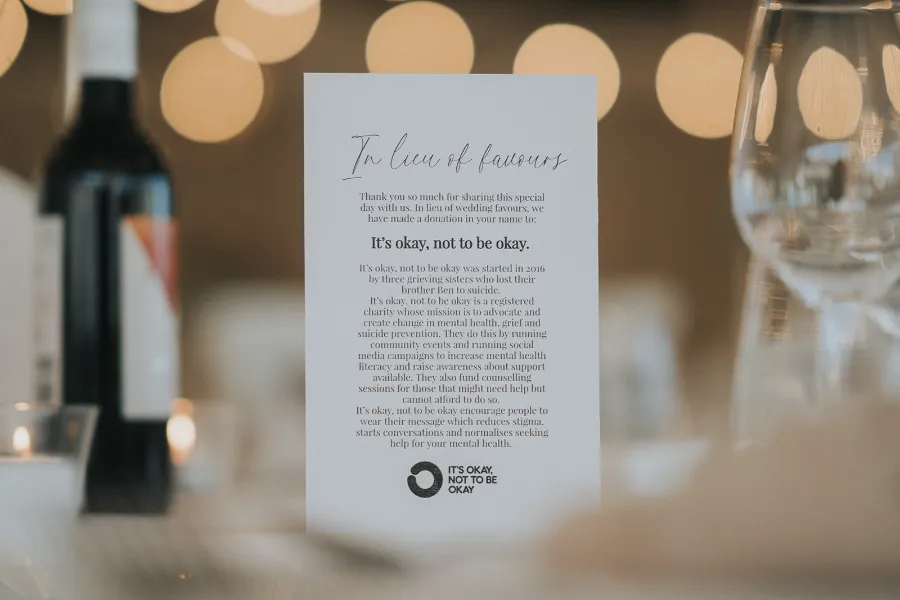 Still in the midst of planning your wedding? If you're trying to find the venue of your dreams, book an inspection at Bramleigh Estate in Victoria's most scenic and romantic region, the Yarra Valley. We look forward to showing you how our luxury wedding venue will make your special day unforgettable.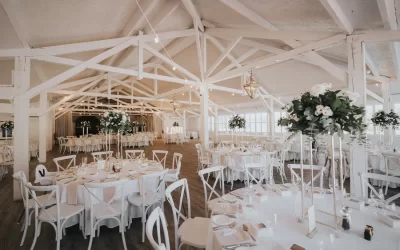 Congratulations! You're engaged and with your long guest list it's time to start looking for your perfect large wedding venue in Melbourne! Here's what to consider to also keep that intimate wedding feeling you've been looking for.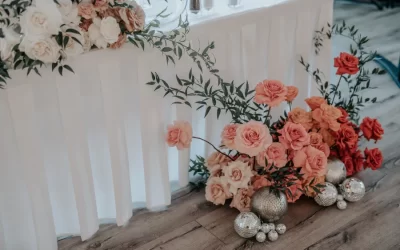 Whether you've been dreaming about your wedding since childhood or just started thinking about what your dream wedding looks like, we've got some inspiration to ensure your big day is perfect.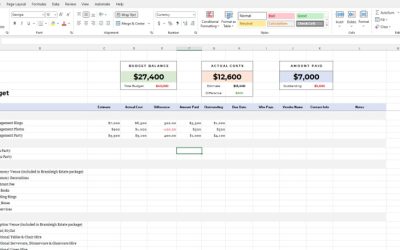 Our free, comprehensive Wedding Budget Template is designed to assist you budget and plan for your wedding and make sure that there are no hidden expenses. Download a copy today!