We're pleased to introduce beautiful newlyweds Simone and Daniel.
These high school sweethearts were married in May 2022 in a gorgeous wedding ceremony and reception at Melbourne wedding venue Bramleigh Estate.
Simone and Daniel met at school when they were just 17 and Daniel was in the year above Simone. They've been together ever since! Read on to learn more of their experience of tying the knot at our award-winning wedding reception venue.
How long were you together before one of you popped the question?
Nine years (would you believe?!) and we had been engaged for six years.
Tell us about the proposal! Did your partner suspect anything?
Daniel proposed at a stunning waterfall whilst on holiday with Simone in Hawaii. The stress of being about to pop the question had made him sick and he was bedridden in beautiful Hawaii for a few days beforehand.
Simone started to get suspicious during their hike to the waterfall when Dan began sweating profusely, despite the low impact exercise!
How did you feel seeing each other down the aisle at your wedding ceremony?
Despite our first look photos earlier in the day, Dan still shed a tear when he saw Simone walk down the aisle, cute right? For Simone, seeing Dan at the end of aisle came with an immense sense of joy, relief and love. They were finally tying the knot!
Discover more about Bramleigh Estate's wedding ceremony locations on our Ceremonies page.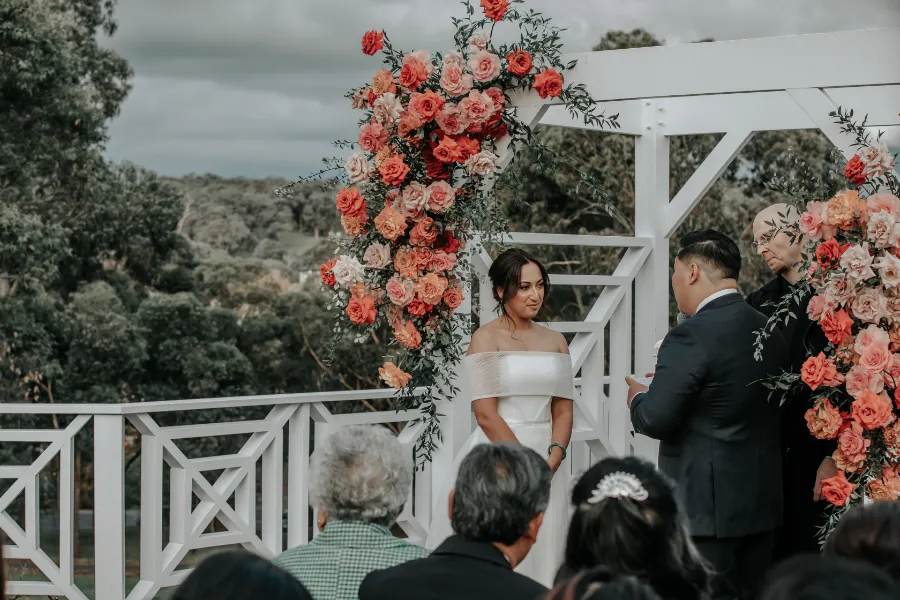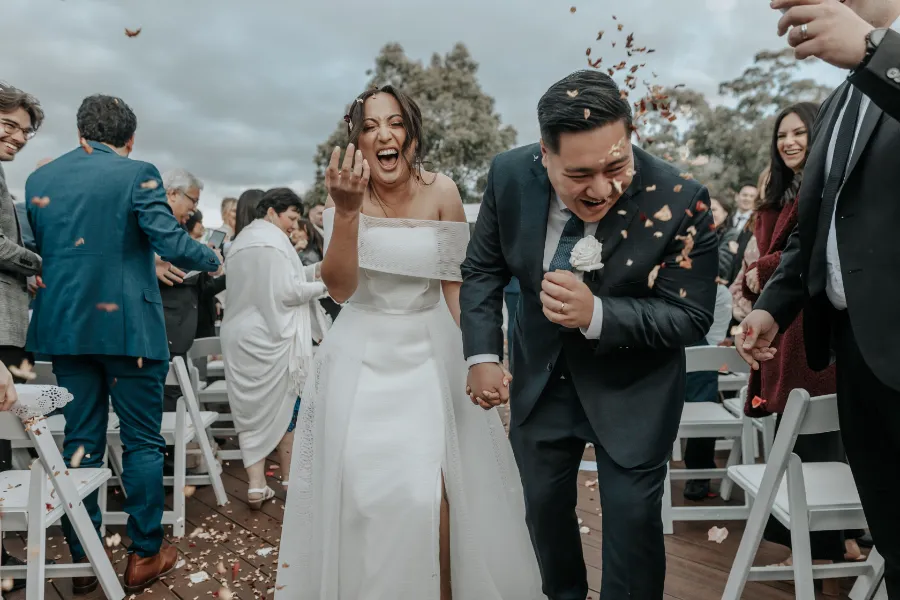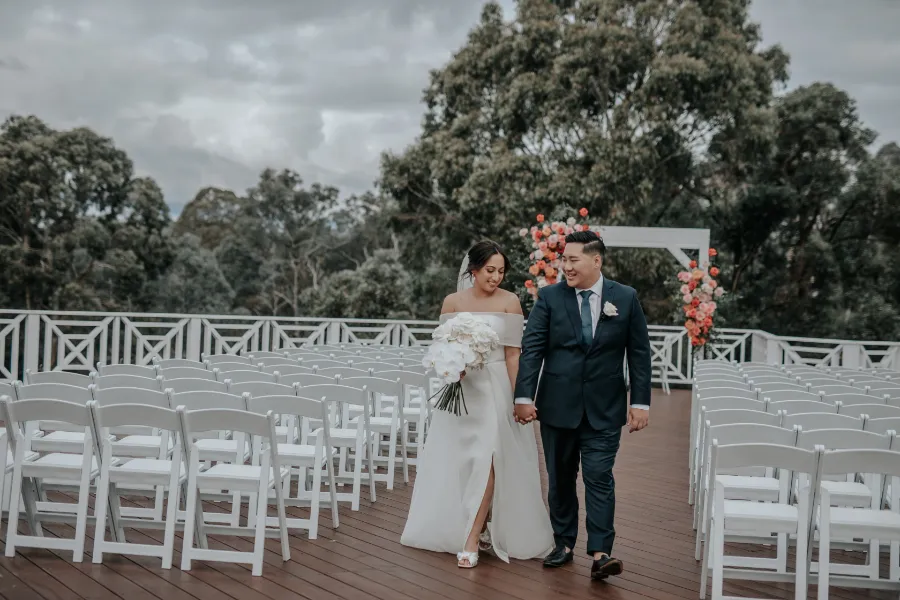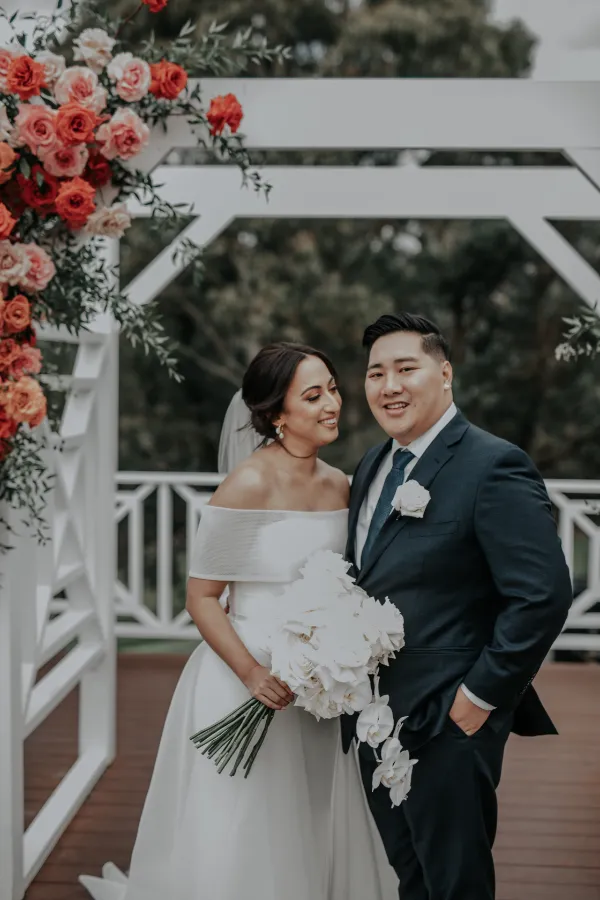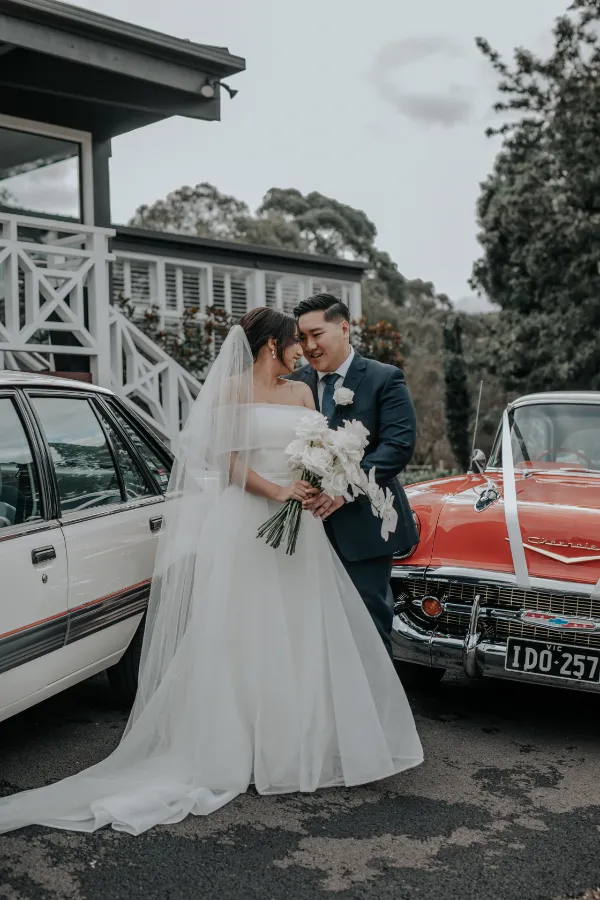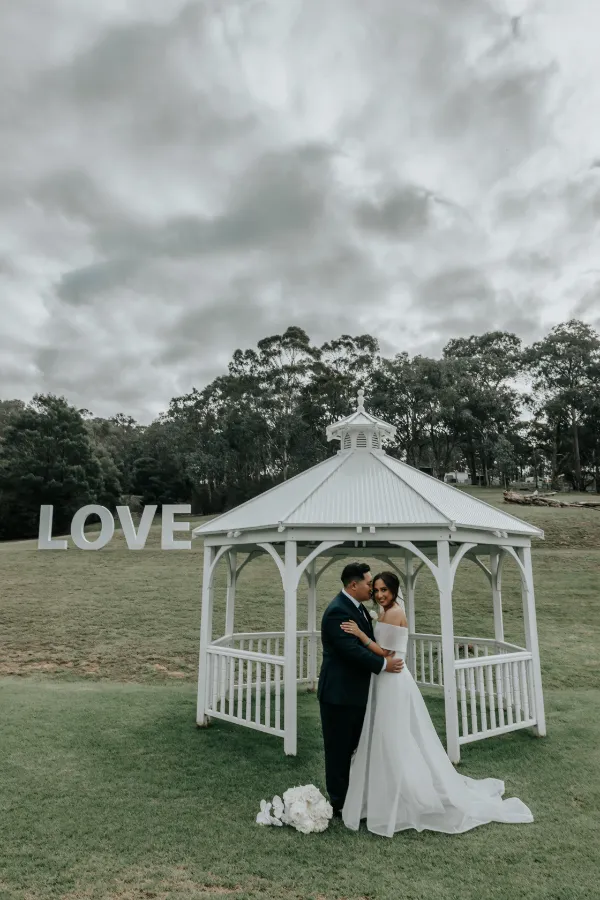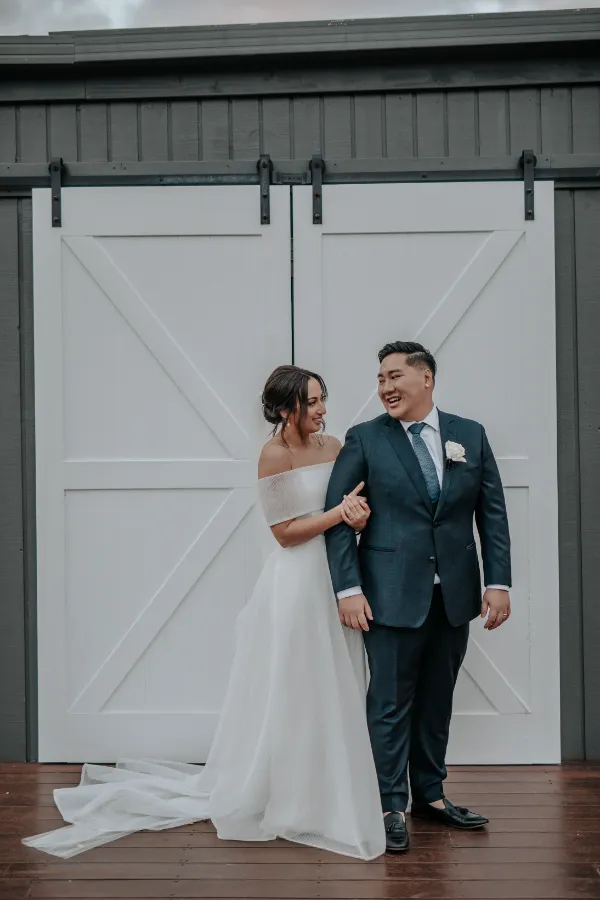 Who were your favourite suppliers on the day and why?
We were so grateful for our patient and supportive suppliers who had been with us since we first started planning in 2020.
External caterer Crystal Palace Catering provided a delicious Asian-inspired wedding banquet and their staff were fantastic and attentive. The canapes served before the reception were a big hit, perfectly accompanying the drinks that were flowing. No-one left hungry after eight courses! Our guests adored the fresh lobster noodles and our vegetarian guests didn't miss out either – the vegetarian options were delicious and we've never tasted a faux chicken so similar to the real thing!
Our floral arrangements changed a lot over our two years of planning and Florals by Miss Men created gorgeous bouquets and colourful and fun pieces for the arbour and bridal table (including shiny disco balls). Le Petite Gateau provided our stunning multilayer wedding cake  and CCCV Lion Dance troupe gave a colourful performance to welcome us into our reception.
DJ Rod G got the party started, and Flying Kites photography and Aldin Ortinez videographer captured the laughter and love.
Looking back on your wedding day what was the best part?
The actual day. We had postponed the date five times due to COVID so the fact we were able to finally celebrate our love felt like an achievement!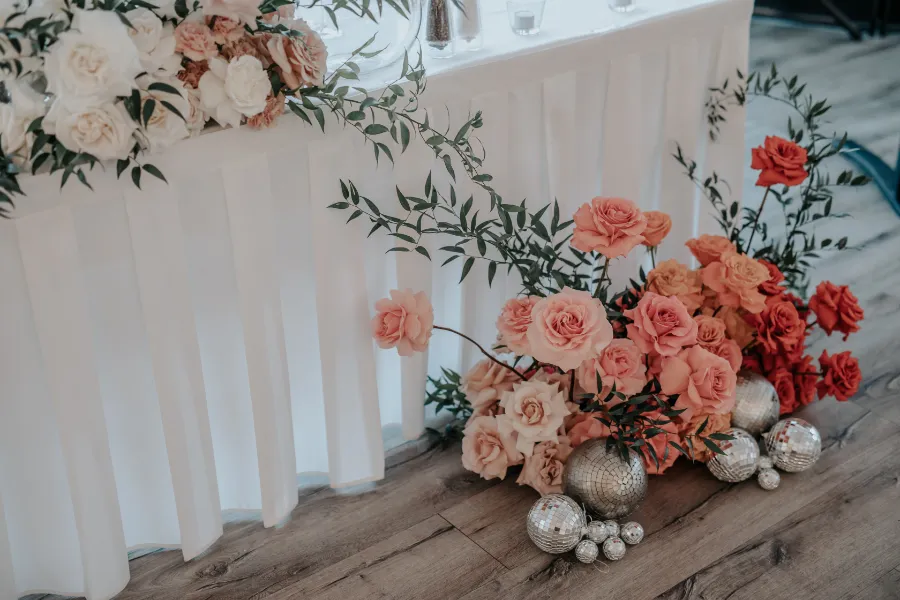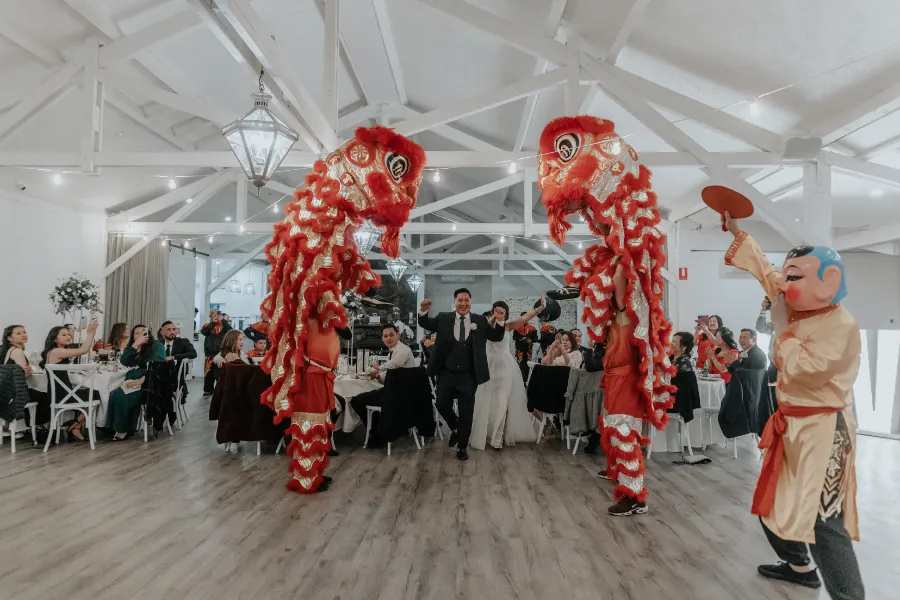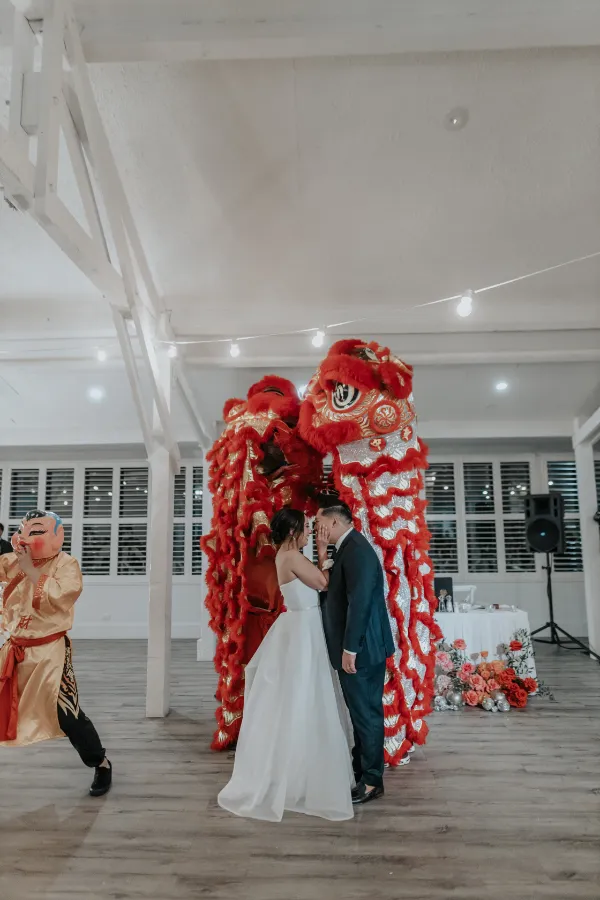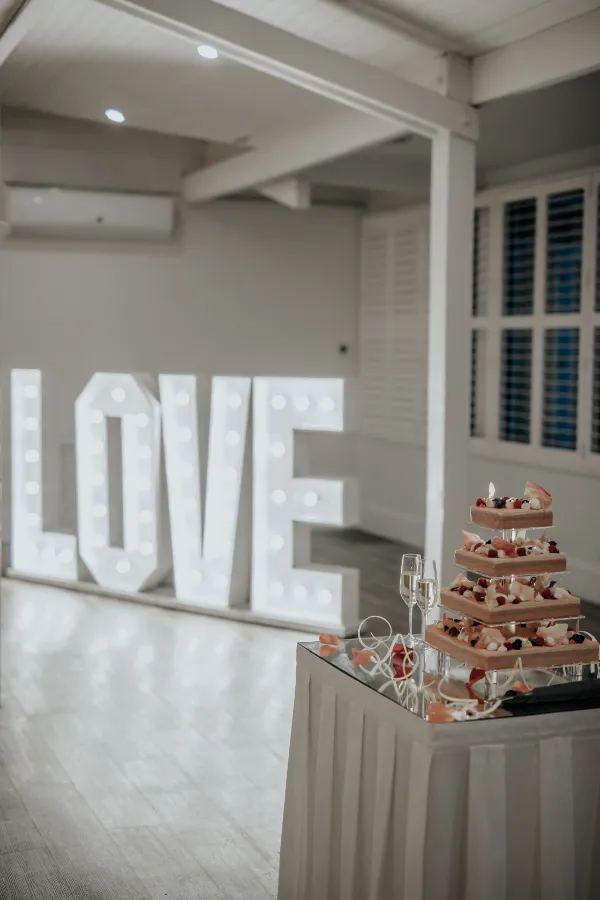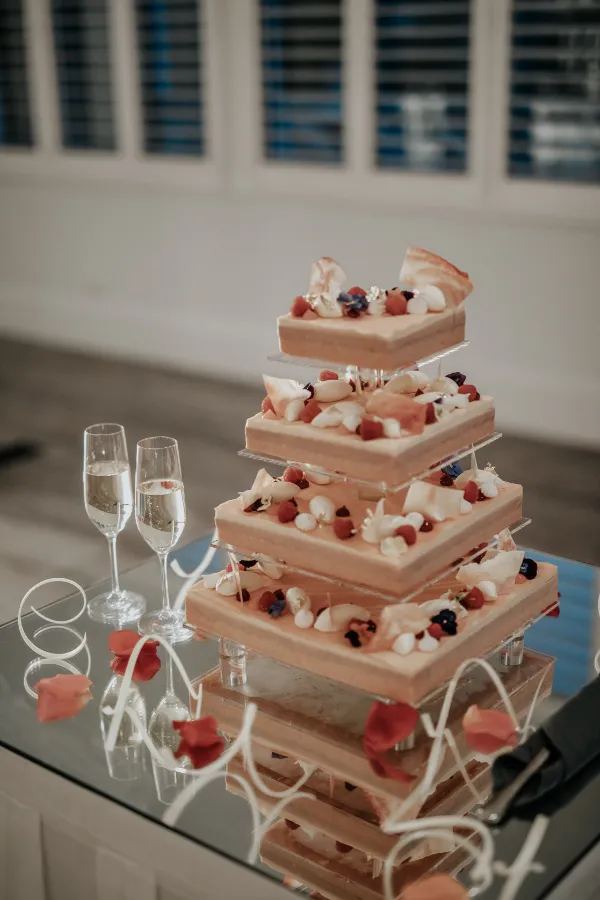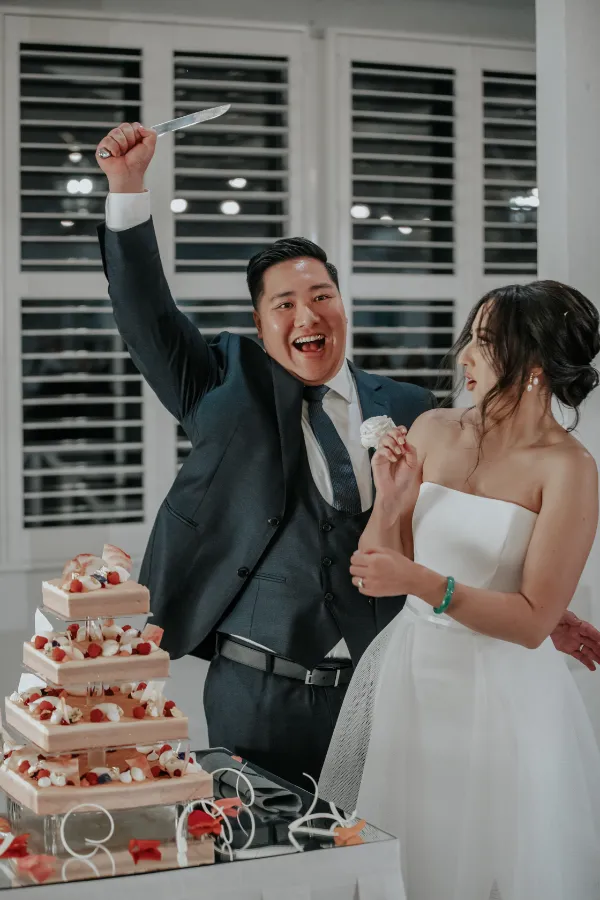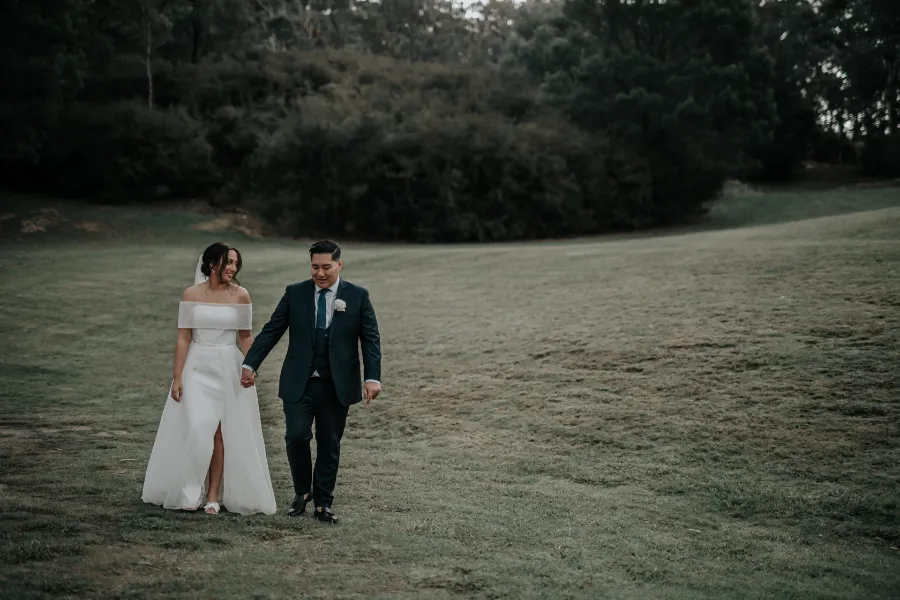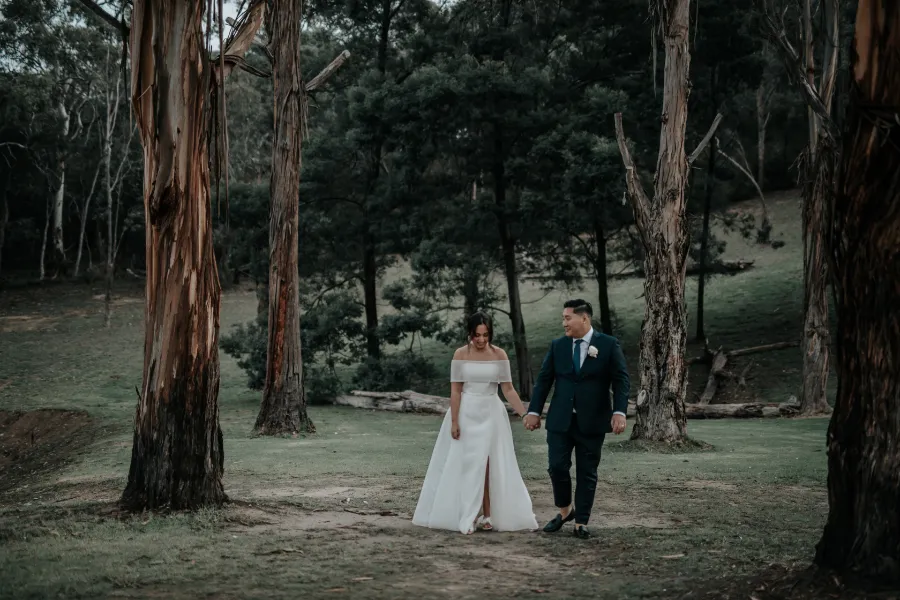 What tip would you give to anyone planning their wedding?
Budgets are really only rough estimates, haha! No, seriously, do what makes you both happy. It's your day. Everyone will have an opinion but the only ones that matter are yours.
How has married life been for you since the big day? What's next for the future?
It's been wonderful – this year we celebrate one year of marriage and 15 years together as a couple.
Anything else you'd like to add?
We can't thank Bramleigh Estate enough for the care and support we received during our wedding planning and rescheduling our wedding multiple times. The entire team were so helpful through every phone call and email. There's a good reason they're a multi-award winning wedding venue!
Learn more about Bramleigh Estate's wedding receptions or download our wedding package. Or why not get in touch with the Bramleigh Estate team to schedule a personalised tour and start planning your own dream wedding.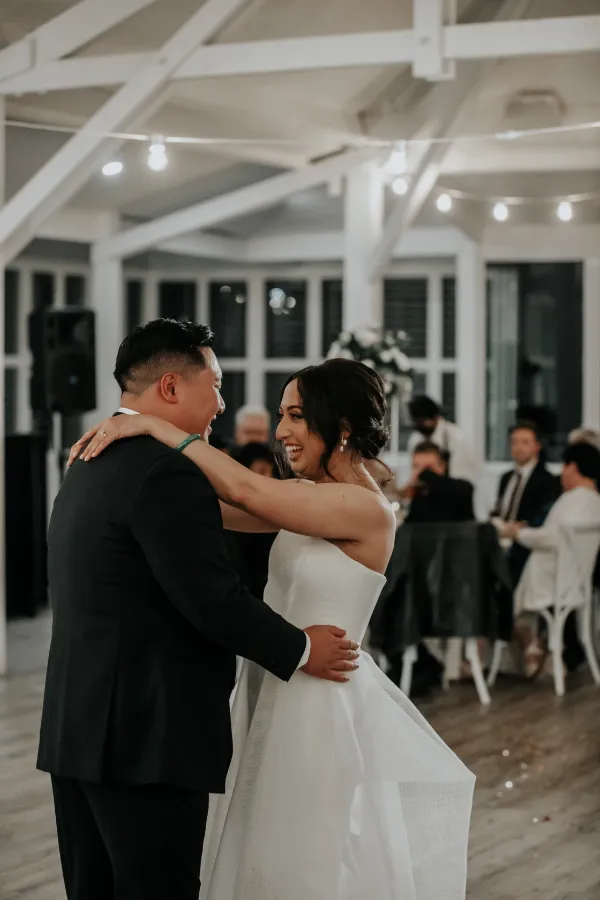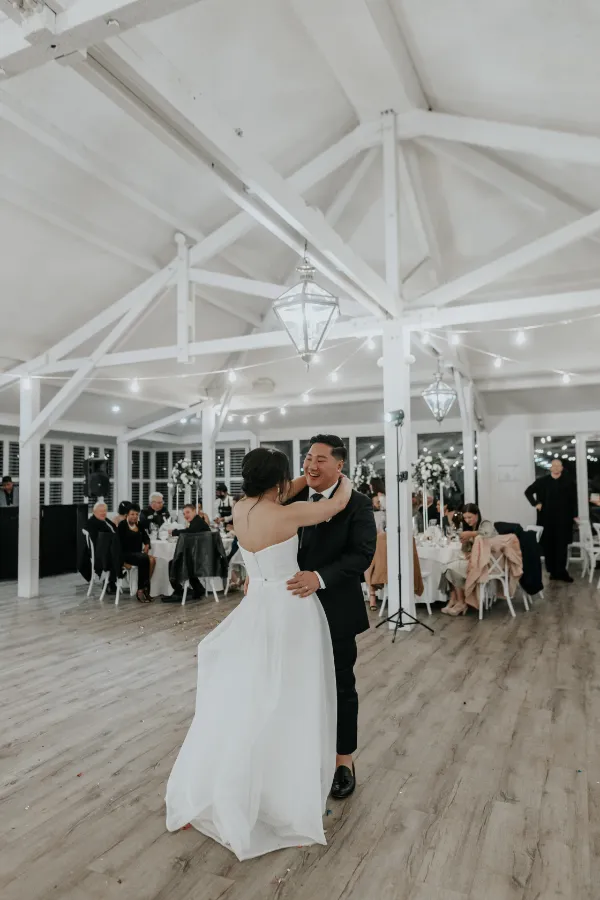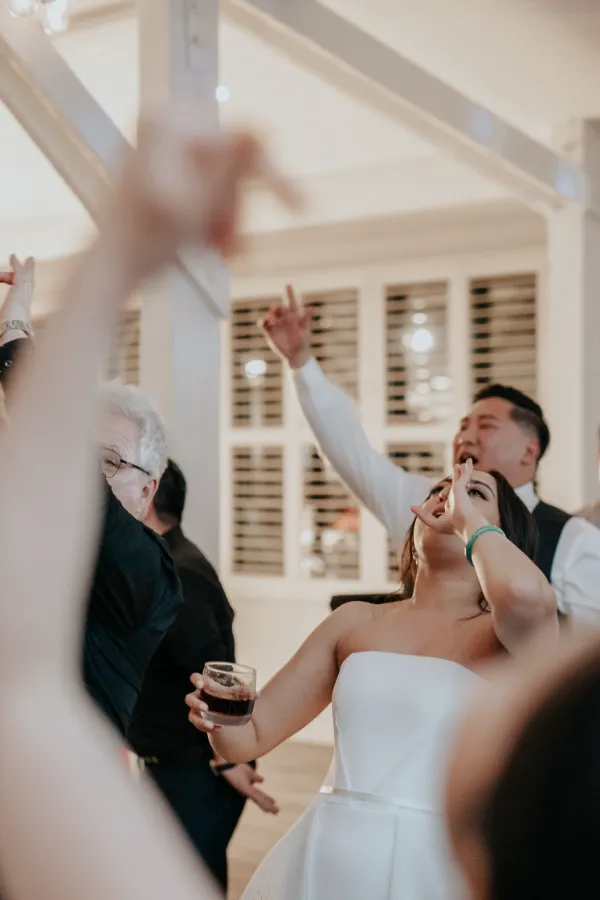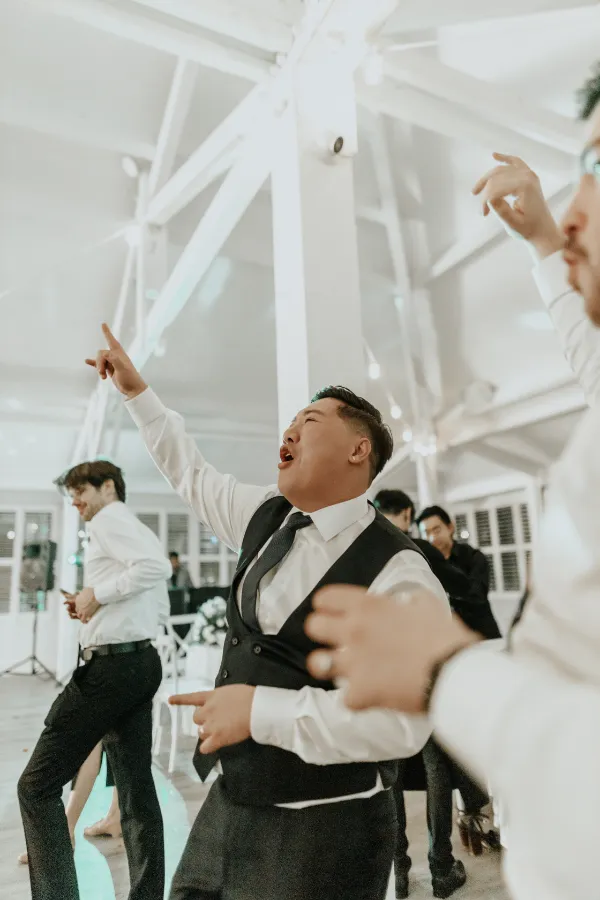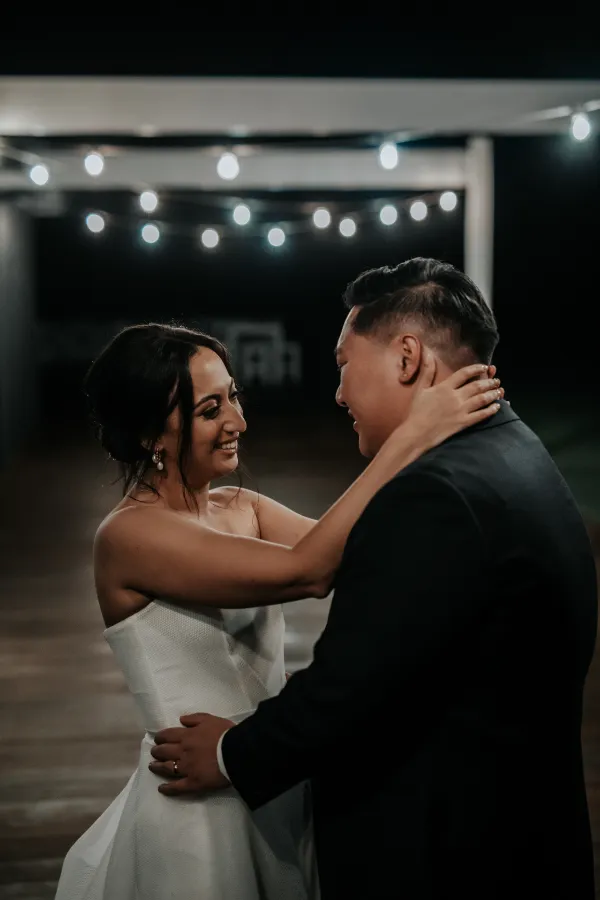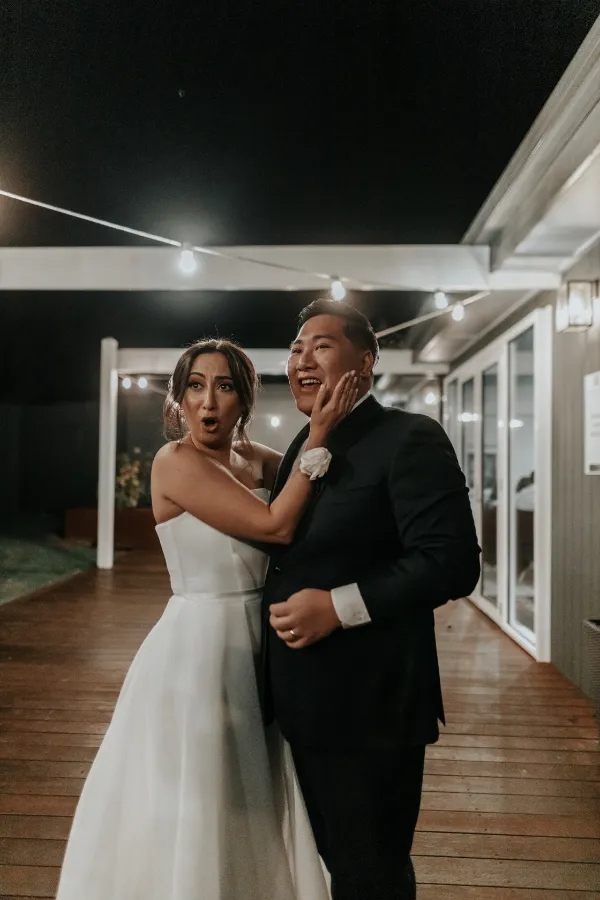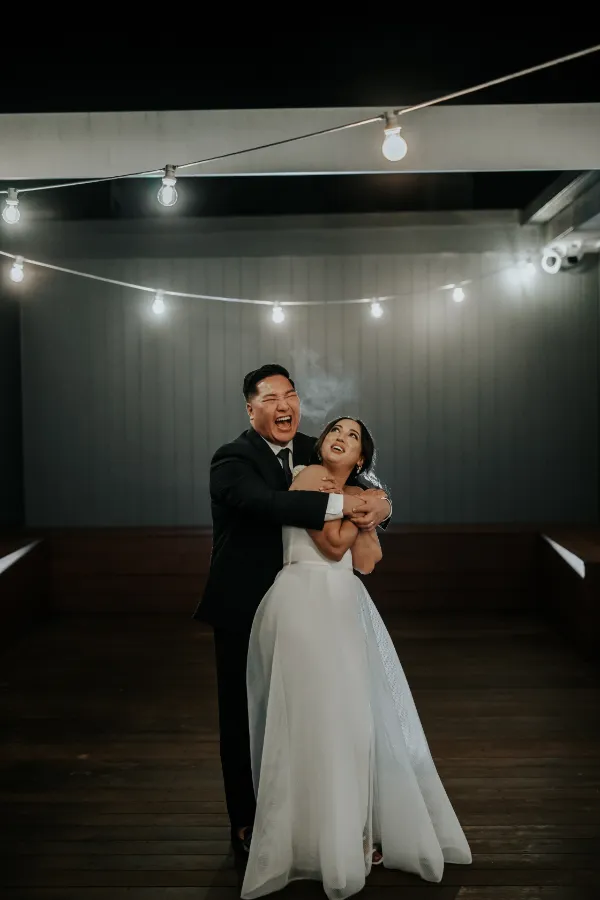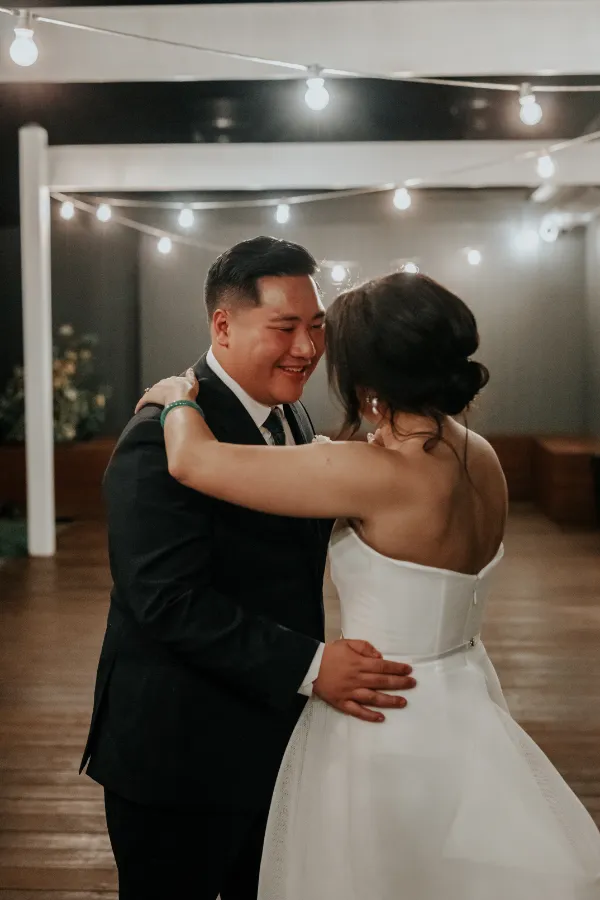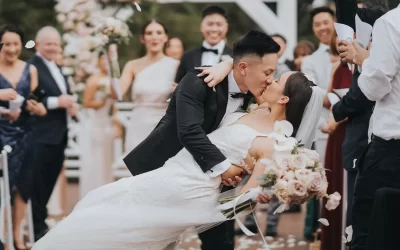 Introducing Emily and Kevin whose luxury wedding at Bramleigh Estate wedding venue was simply stunning! The gorgeous couple married in March 2023 in a beautiful outdoor wedding ceremony and reception.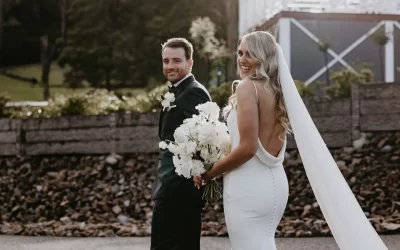 Introducing Teagan and Glenn whose beautiful Melbourne wedding reception at Bramleigh Estate was super fun and stylish!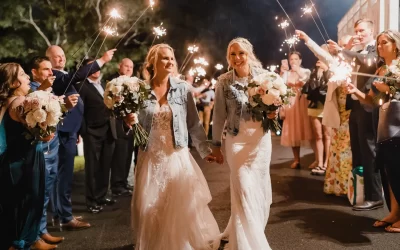 The Bramleigh Estate team is delighted to introduce Jessica and Alexandra who tied the knot in a gorgeous ceremony and reception at our Yarra Valley Wedding Venue.