Introducing Teagan and Glenn whose Melbourne wedding reception at Bramleigh Estate was super fun and stylish!
The gorgeous couple were married in October 2022 in a beautiful indoor wedding ceremony and reception at Bramleigh Estate wedding venue Melbourne.
Read on for more of their experience getting married at our award-winning Melbourne wedding reception venue.
When and where did you meet?
We met 13 years ago in 2010 at BLITZ nightclub in Berwick. It was the Thursday night before Easter which we like to call 'Good Friday Eve Eve'.
How long were you together before one of you popped the question?
Teagan patiently waited 10 years and 5 months.
Tell us about the proposal! Did your partner suspect anything?
Teagan: It was a Friday night in mid-April 2021 and I arrived home from work to see Glenn sitting at our kitchen table working on his laptop. Home before me? That never happens! We were travelling to Torquay for the weekend to attend his cousin's wedding, so I just presumed he had come home from work early to pack and so I didn't suspect a thing.
I noticed our dog, Nala, was outside even though when we're home she is always inside with us. Instead of walking over to Glenn to give him a kiss hello, I headed straight to our back door to let Nala in (she has these sad puppy dog eyes that make you feel sorry for her). And again, it was strange that she wasn't inside with Glenn. Before I got to the door, Glenn mentioned that Nala had a new dog tag. I thought to myself, 'That's weird, why would she need a new dog tag?'. In my mind, I was picturing some sort of council registration tag.
I opened the door and noticed that her shiny new rose gold dog tag definitely wasn't the council registration tag that I had been picturing in my head. Nala was jumping all over me to say thank you for letting me inside and so I couldn't quite read what the tag said. As Nala calmed down a little, I was able to flip the tag over and it said…'WILL YOU MARRY ME?'
I turned around and saw Glenn on one knee in the middle of our family room saying 'Will you marry me?'. I felt all the emotions – shock, excitement and happiness – and it all happened so quickly that I don't even think I said 'Yes' to begin with! After calming down a little, Glenn and I ended up sitting on the floor together debriefing the entire process from ring purchasing to proposal and everything in between.
After this my parents, my brother and sister-in-law and nephews came to our house to celebrate. Later in the night Glenn took me out for a celebratory dinner at the beautiful restaurant now at the location of the old BLITZ Nightclub where we first met nearly 11 years ago.
How did you feel seeing each other for the first time down the aisle?
The day before our wedding, Victoria was dumped with a huge amount of rain and a lot of the state was flooded! Then on our wedding day there were big patches of heavy rain forecast and so we were really uncertain about what to do for our ceremony.
We had always wanted to get married on Bramleigh's beautiful outdoor deck and all of our planning had been around this. But as the weather was so unpredictable our ceremony was moved inside in front of the grand stone fireplace. I was so incredibly lucky to have my Dad walk me down the aisle. Stacey, my maid of honour, had told me to make sure I look at Glenn and not to worry about being emotional, so that's what I did. Once I was over the initial shock of everyone staring at me, I remembered to look up at Glenn and let the emotions flow.
Even though I had my heart set on being married on the deck, I'd now choose the indoor ceremony every single time! Being inside in front of the fireplace kept everyone warm and the rustic stones, candles and florals were a stunning backdrop. It was also an extremely intimate ceremony as everyone was in a smaller space. It was perfect for us!
Discover more about Bramleigh Estate's wedding ceremony locations on our Ceremonies page.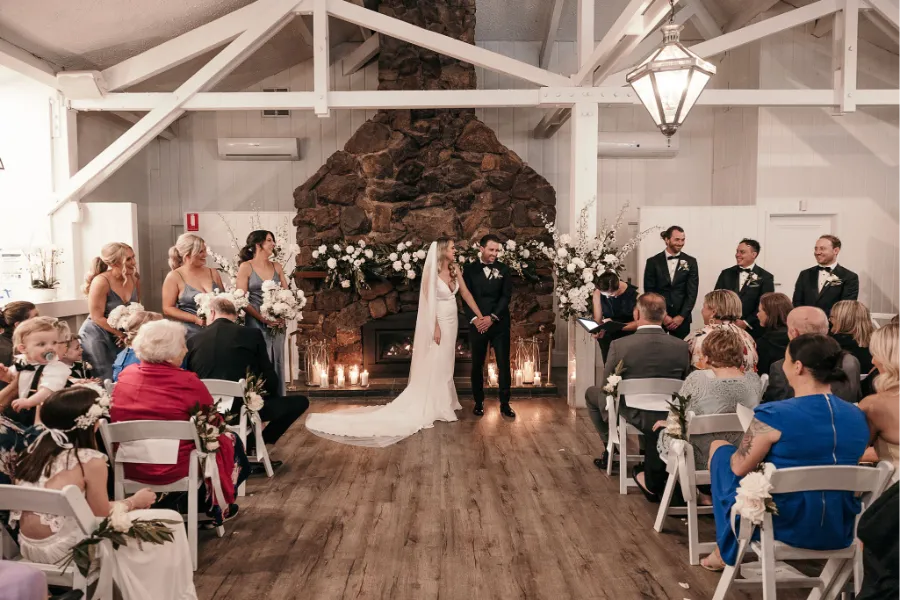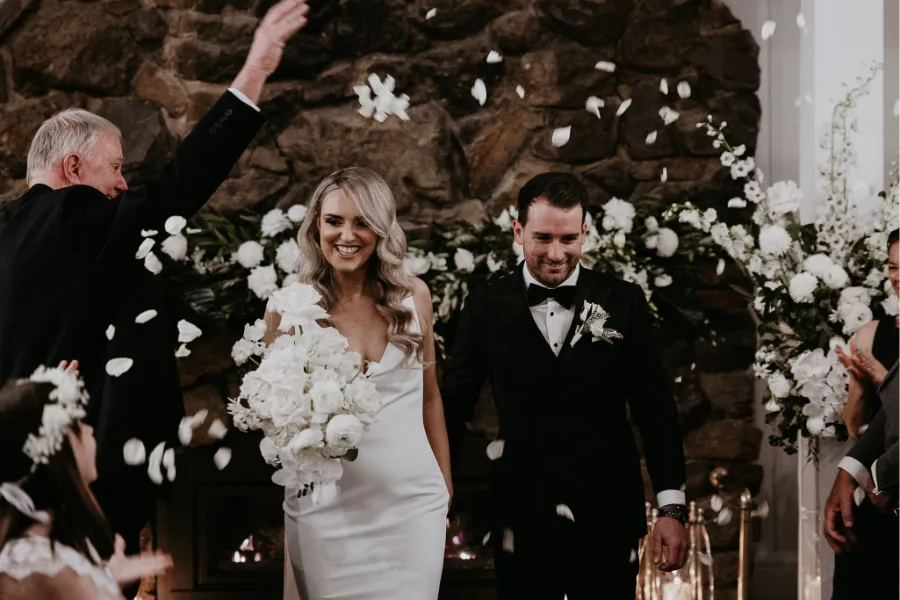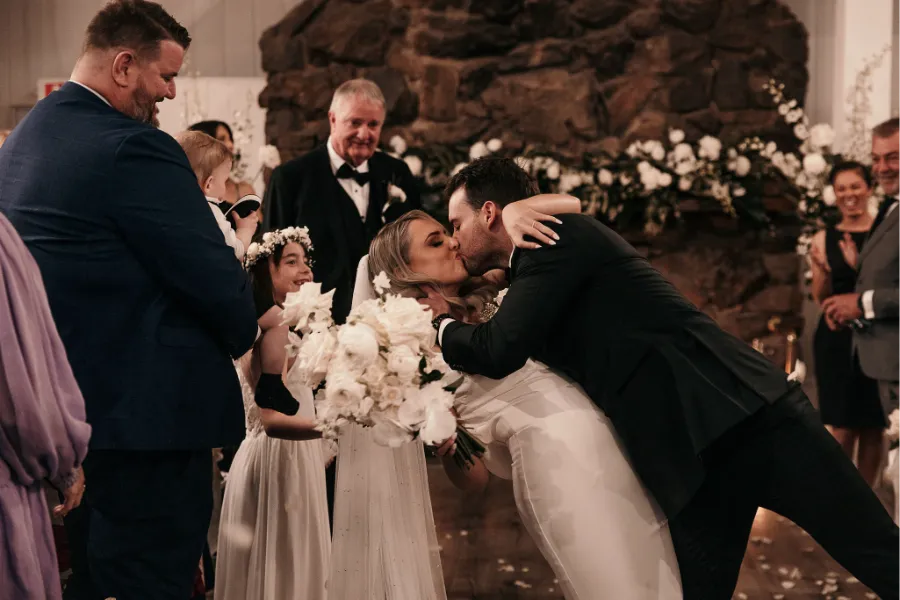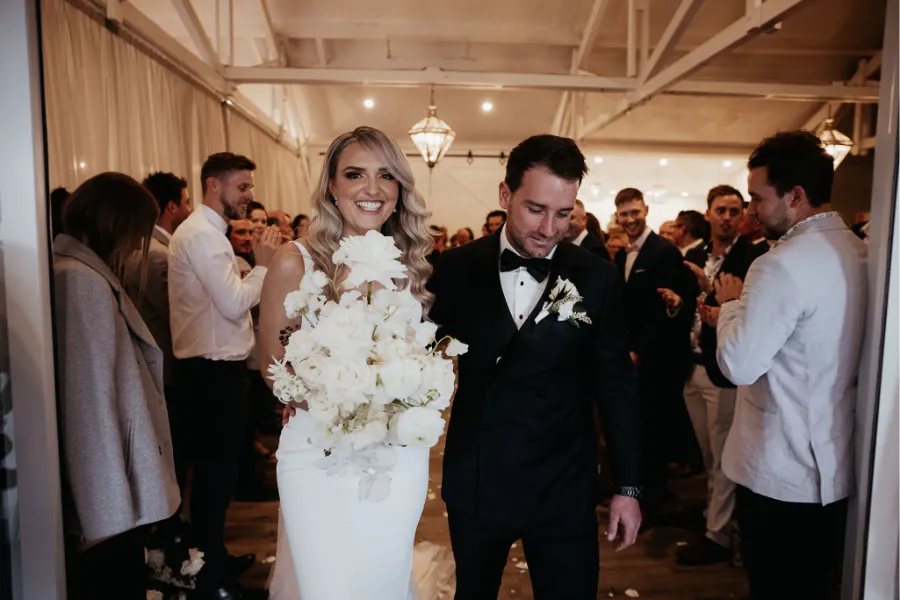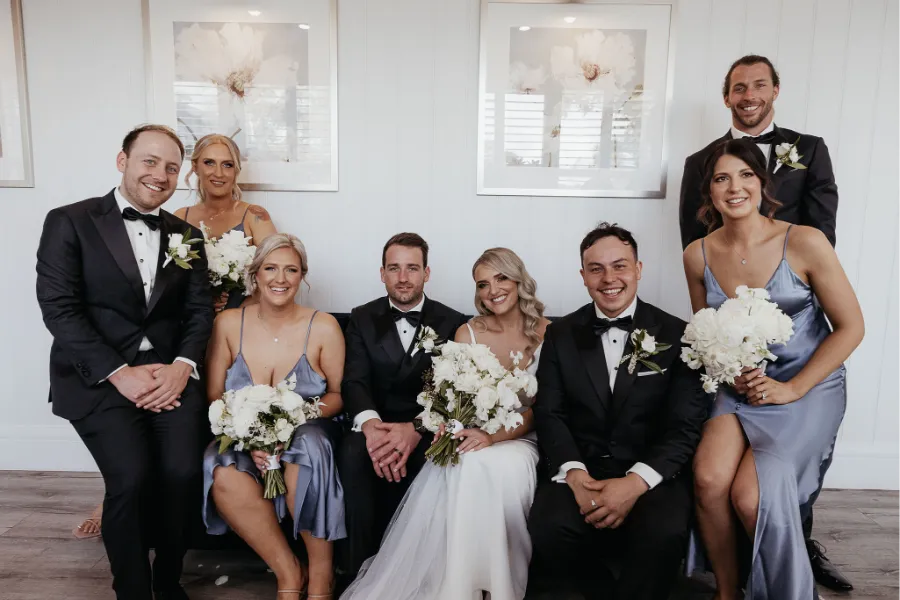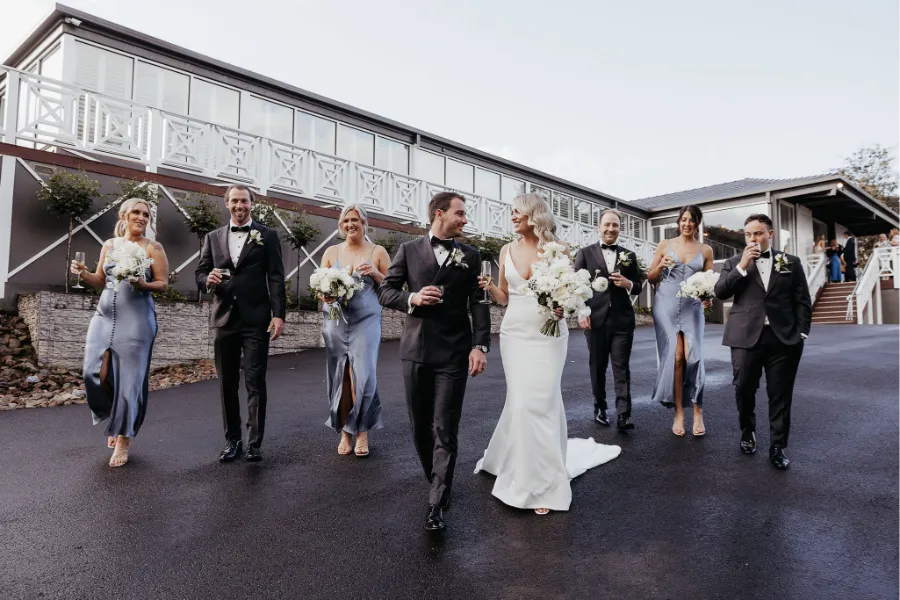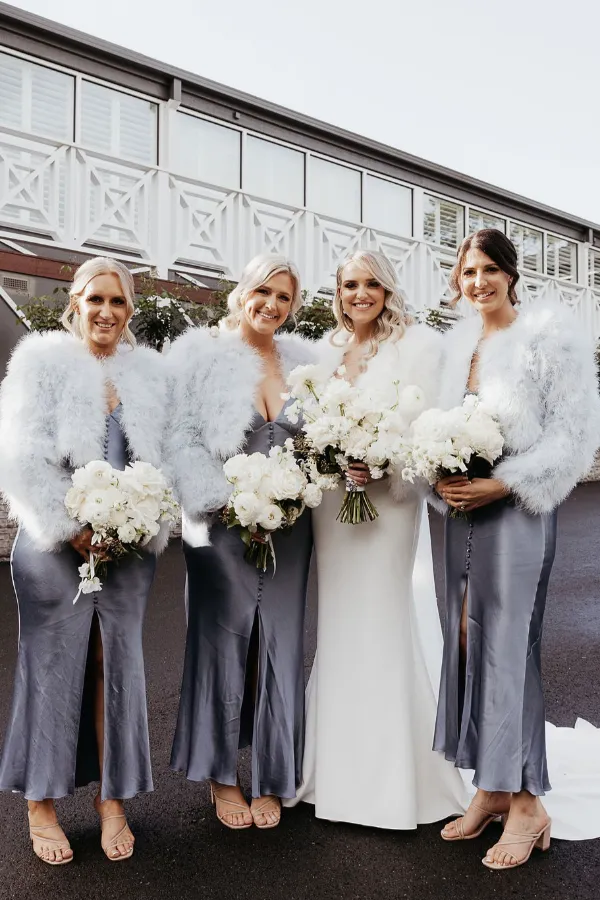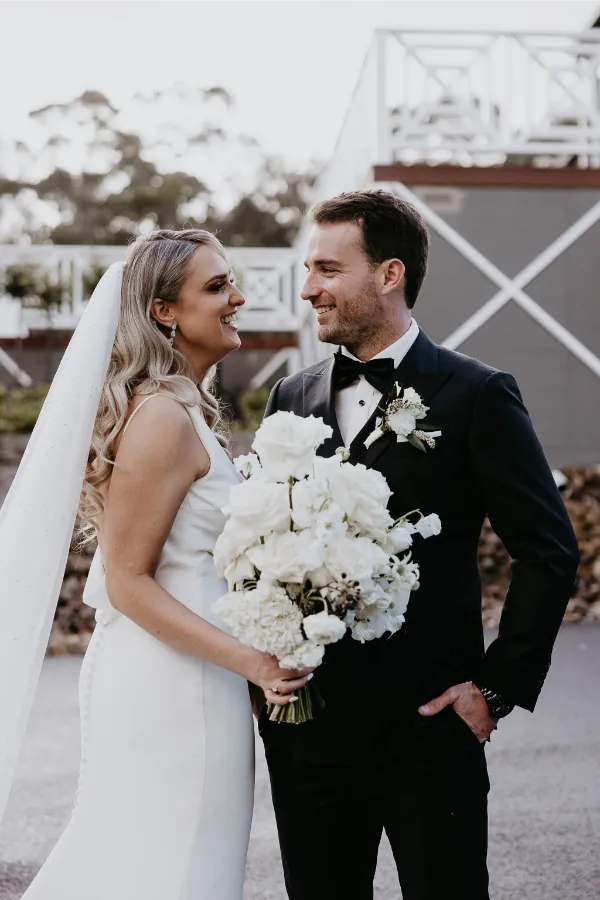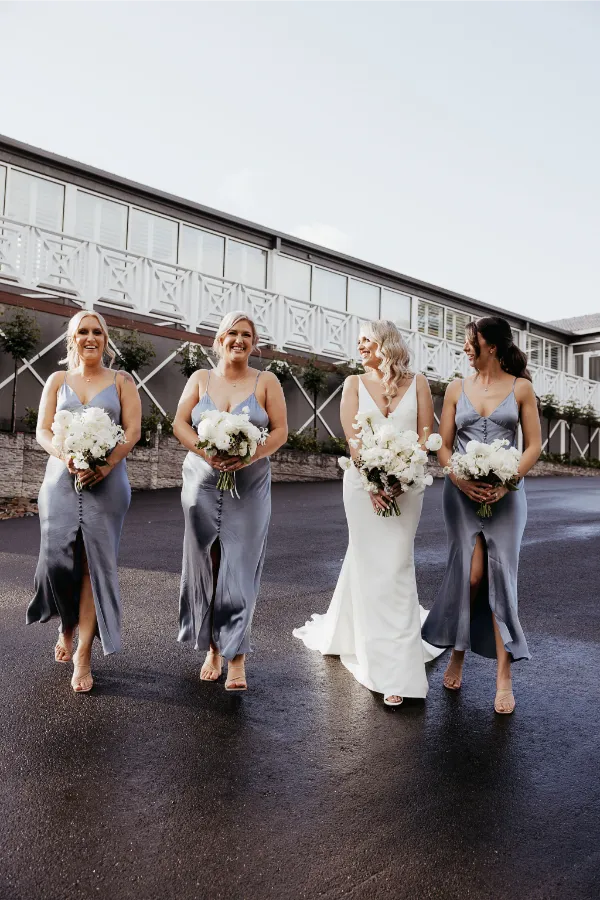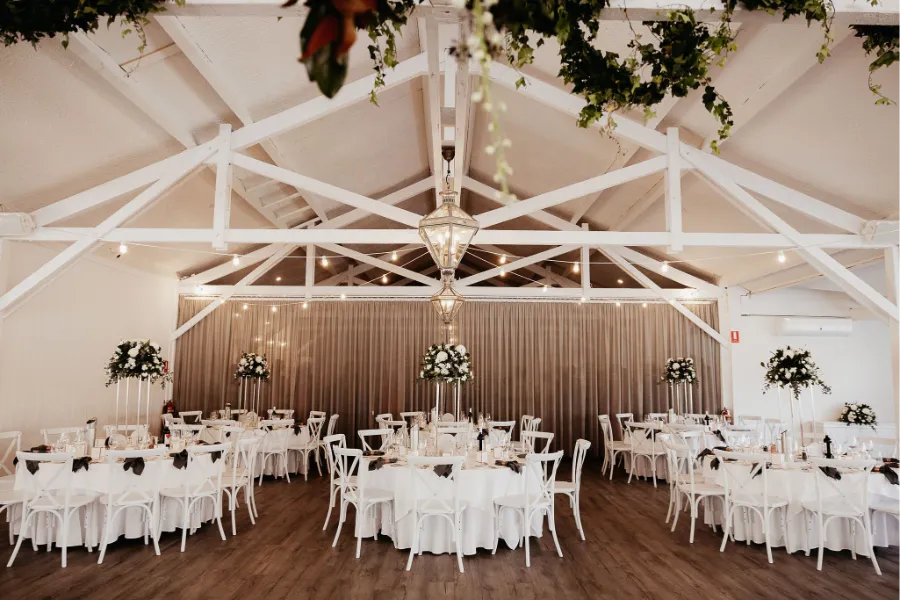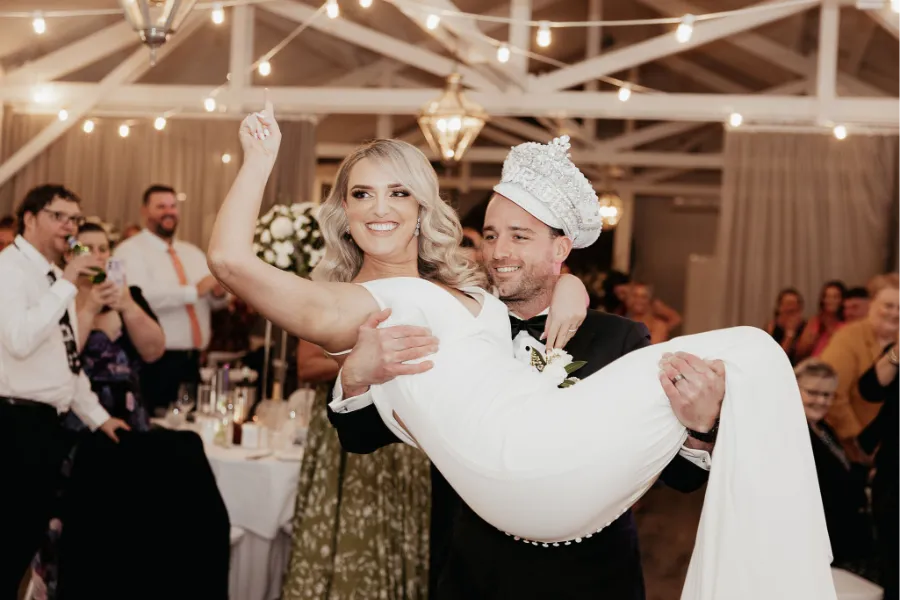 Who were your favourite suppliers on the day and why?
Glamoufied by Lizi – Lizi made all the girls feel so beautiful and was a calm presence in the morning before the wedding. Lizi displayed her perfectionism and created the perfect look for myself as the bride and my bridesmaids. Lizi was also able to easily work with different skin types and tones and nothing was too much trouble for her.
Shauna's Big Tease – Shauna was an easy-going relaxed presence to help us get ready on the day. She was a wealth of knowledge in regards to hair styling and gave us all the tools we needed to ensure our hair stayed perfect all day and night. Shauna displayed her skill set by completing three different looks among the five of us.
Blooms by Mel Floral Styling – Mel was a breeze to work with and nothing was too much trouble for her. This was the largest wedding she had done and she had to visit three different suburbs the morning of the wedding but she took it all in her stride. Mel made everything super easy from a wedding planning point of view as she did all the set up and even came back at midnight to pack everything up. She also allowed us to keep many of the florals that were supplied on the day.
Morgan Lee Photography – Morgan, our photographer, and Cooper, our videographer, were sensational people to work with. Their relaxed and easy-going personalities helped keep everyone calm and this produced the most stunning photos and video that we are absolutely obsessed with. Travelling to and from different venues was no trouble for them and their ability to alter their plans due to weather is to be commended.
During the reception while you were sitting at the bridal table looking out at your guests how did you feel?
We felt incredibly lucky to have all our closest friends and family there to celebrate our love with us. We also felt extremely grateful to have such a stunning wedding venue as Bramleigh Estate to share with our guests.
Looking back on your wedding day what was the best part?
Teagan – We can honestly say that we can't pick just one or two best parts. We had the absolute best time with our friends and family. It was the BEST day of our lives. Personally, I would do it again any and every day of the week!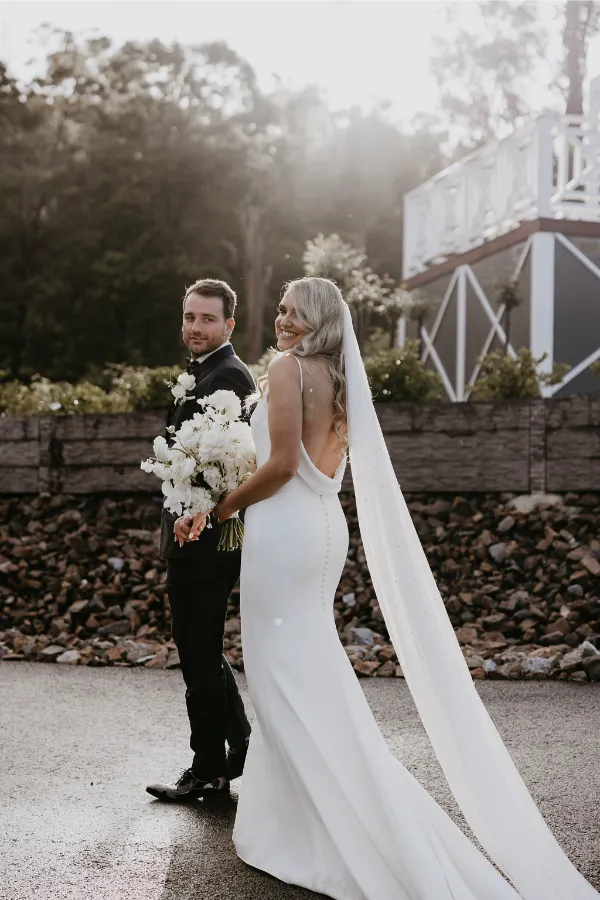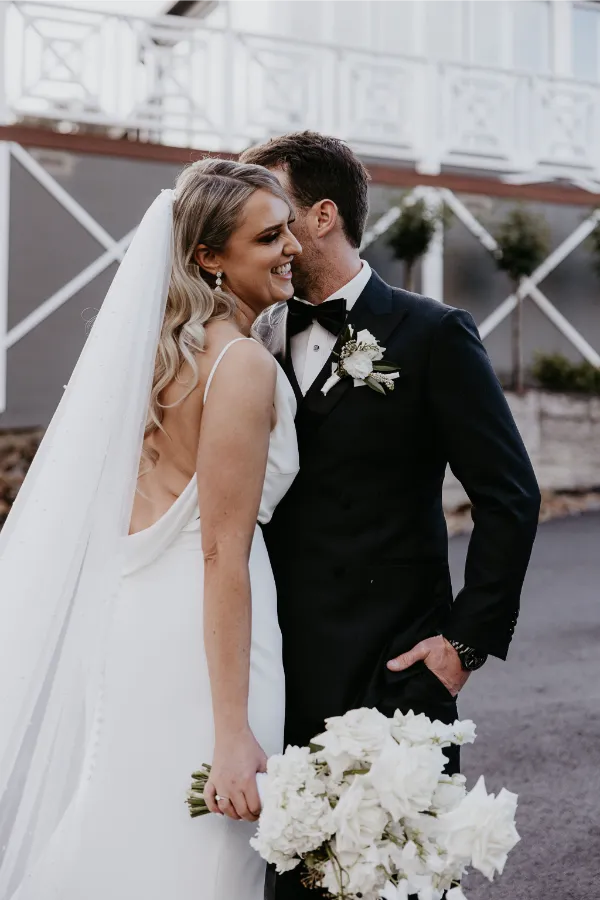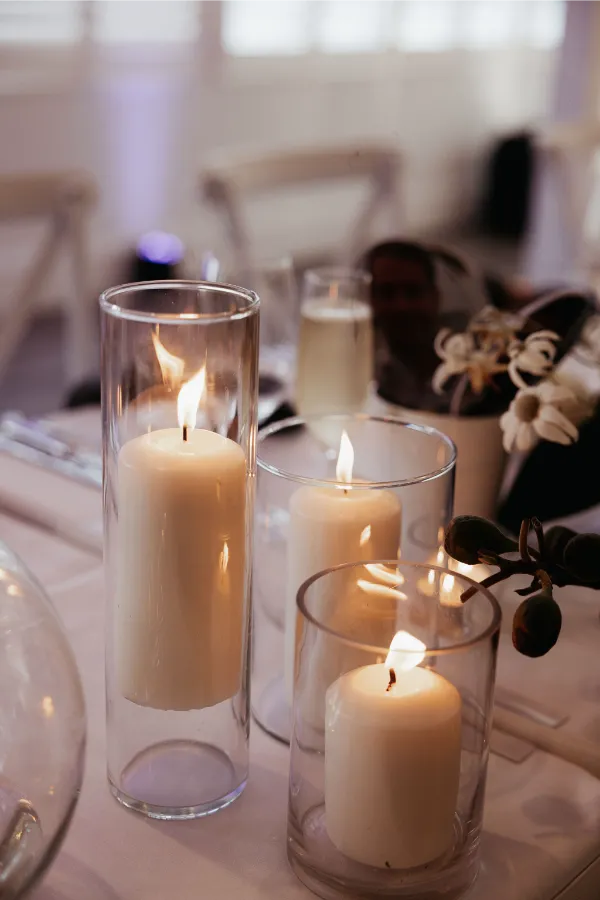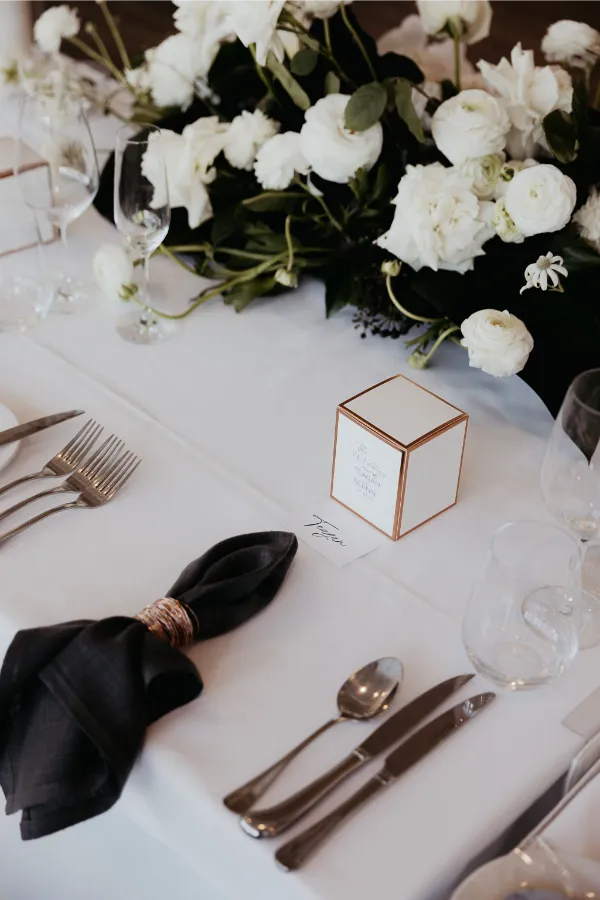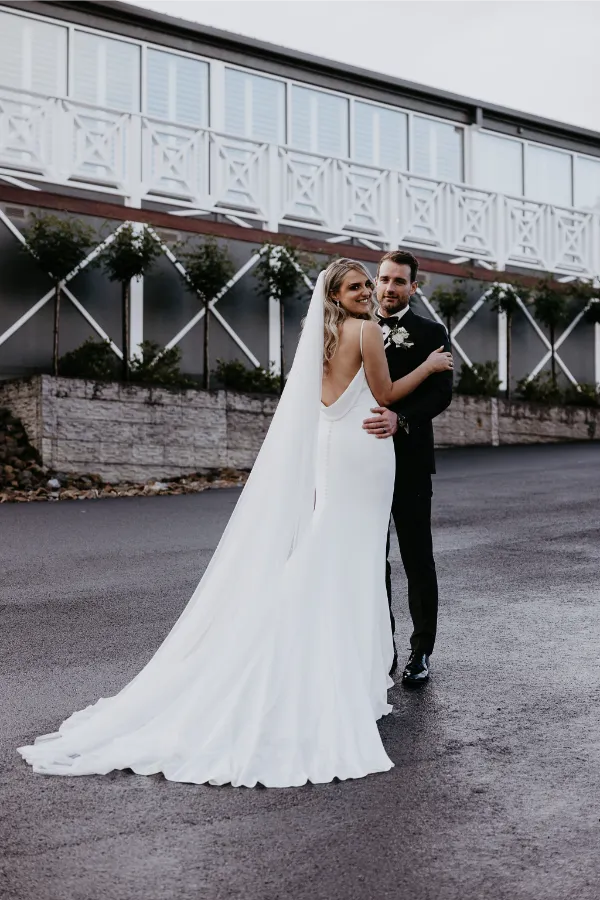 What tips would you give to anyone planning their wedding?
Glenn – let the bride do the planning – haha! And if you have pets, specifically a dog, make sure you include them in your day.
Teagan – be super, super organised! And do all the planning so that you aren't having to nag your partner to get things done on their end – haha! In all seriousness, if you are a planning and organisational freak like me, give your partner a few jobs to do so that they feel involved in the process and then you can get everything else done.
On the day itself there are bound to be things that don't go as planned or as expected. Just take it in your stride and don't stress about it. What will be will be!
How has married life been for you since the big day? What's next for the future?
Married life has been fabulous! We were on such a high after the wedding and lapped up two weeks of quality time together. We then travelled to Hamilton Island for our honeymoon which was AMAZING!
The only downfall is that we don't have a wedding to plan anymore – haha!
Learn more about Bramleigh Estate's Melbourne wedding reception venue or download our wedding package. Or why not get in touch with the Bramleigh Estate team to schedule a personalised tour and start planning your own dream wedding.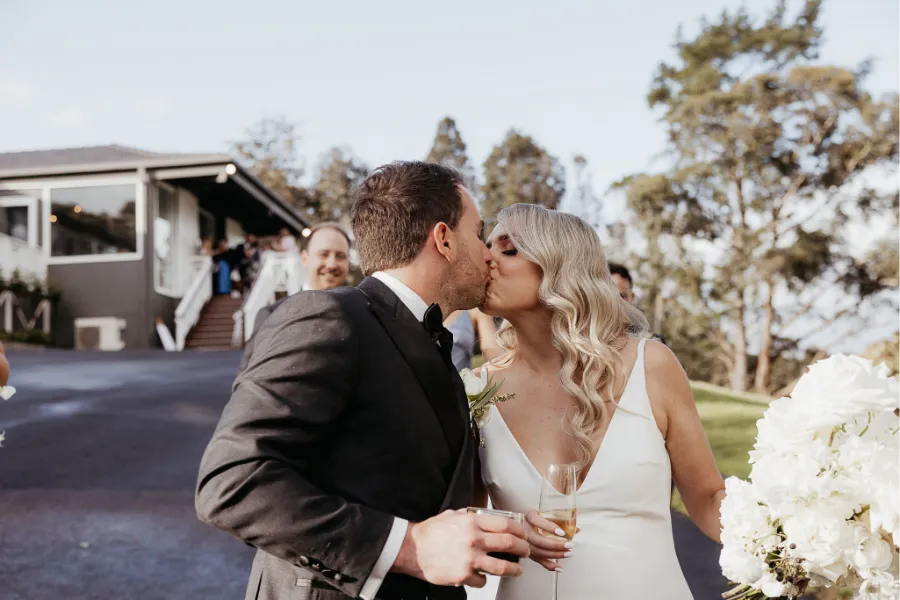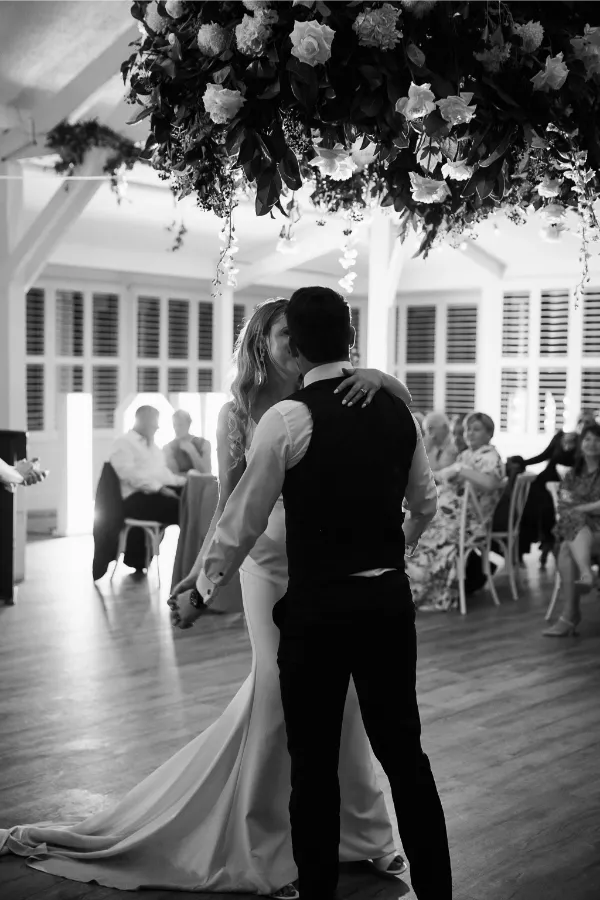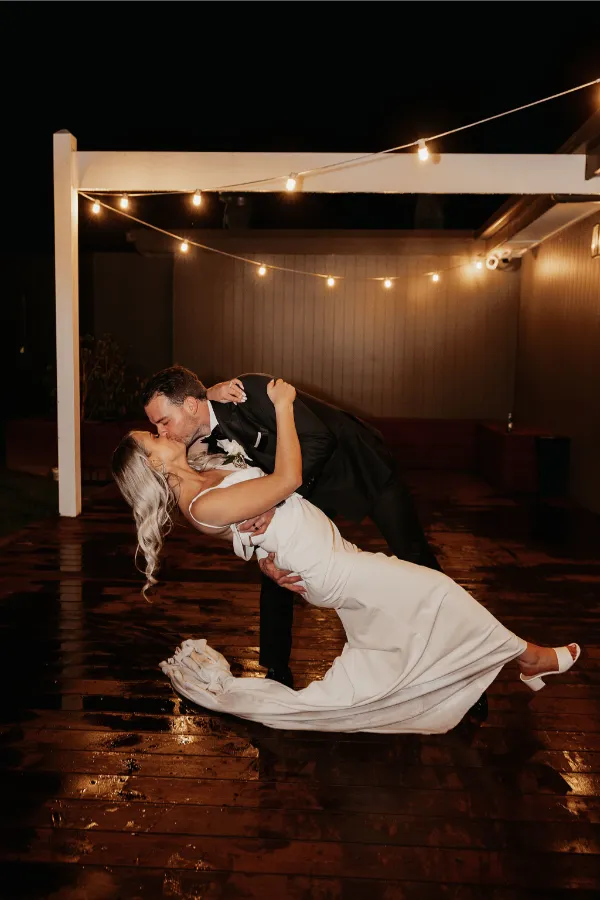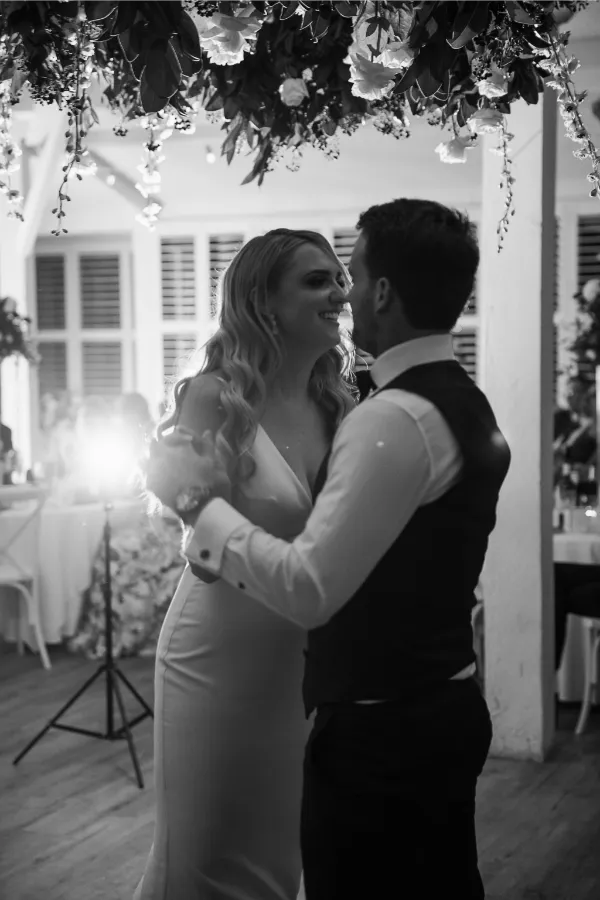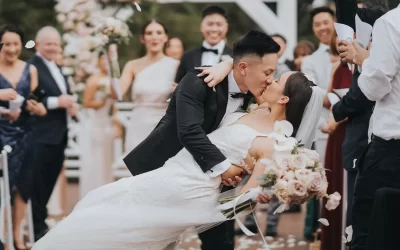 Introducing Emily and Kevin whose luxury wedding at Bramleigh Estate wedding venue was simply stunning! The gorgeous couple married in March 2023 in a beautiful outdoor wedding ceremony and reception.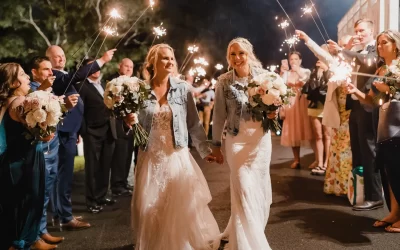 The Bramleigh Estate team is delighted to introduce Jessica and Alexandra who tied the knot in a gorgeous ceremony and reception at our Yarra Valley Wedding Venue.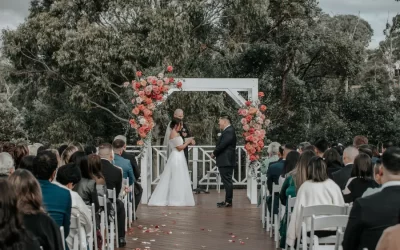 High school sweethearts Simone and Daniel were married in a gorgeous wedding ceremony and reception at Melbourne wedding venue Bramleigh Estate.