The Bramleigh Estate team is delighted to introduce Jessica and Alexandra who tied the knot in a gorgeous ceremony and reception at our Yarra Valley Wedding Venue.
Jess and Alex were married in October 2022 in a fun indoor wedding ceremony and reception at Bramleigh Estate.
They met at their work Christmas party in 2019 and were together for only six months before they popped the question.
Read on for more of their experience getting married at our award-winning Yarra Valley wedding venue.
Tell us about the proposal! Did your partner suspect anything?
Jess: I proposed while we were up in Palm Cove on holidays. The day poured with torrential rain and I was dying of a cold. Alex was convinced that I had Covid… but I had organised for the two of us to get up and trek to a lookout to watch the sunrise as this was one of Alex's favourite things to do. As soon as we arrived at the lookout the rain cleared, the clouds parted and Alex began taking some photos.
Me being the goofball that I am, had left the ring back in the car and so I told Alex that I was going to get my phone. Next minute I had dropped the ring on the ground and of course, it rolled under the car! Lying on my stomach drenched from the puddles of rain on the road, I finally retrieved the promise ring. Alex was in her own world happily taking photos of the view when I got down on the wet floor ground and began to tell her how much I loved her. Alex was like 'Yeah, yeah…come have a photo with me'. I had to say 'Look at me!'. Then as Alex turned around she realised I was down on one knee. I poured out my heart, Alex smiling ear to ear and of course, Alex's first response was 'No takebacks'!
Alex: A few days after Jess' proposal, I had arranged a helicopter ride and a private picnic on a sand key in the middle of the Great Barrier Reef followed by some snorkelling. Well Jess went snorkelling as I was soooooo scared of the jellyfish! I sun-baked instead while Jess splashed around in the water and made dolphin noises. Then we went for a picnic on the beach where I smoothly got down on one knee, opened up a ring box and asked Jess to marry me.
Jess said 'You'd want to hope I'd say 'Yes' given I already asked you to marry me!' but both of us couldn't wipe the smiles off our faces! That night we feasted on a sumptuous five-course menu I'd organised that included all of Jess' favourite dishes and wines.
How did you feel seeing each other down the aisle at your wedding ceremony?
Alex: We had done a reveal at the Yarra Valley Lodge where our bridal party and guests stayed the night before, however standing in front of our loved ones in front of the Bramleigh Estate fireplace surrounded by such beautiful flowers and candles and staring deeply into each other's eyes, completely took my breath away. Jess made my heart beat both faster and slower at the same time. I was excited and nervous as I don't really like public speaking but standing up there in front of everyone holding Jess' hands and staring into her eyes, I instantly felt a sense of calm. Everyone commented on how magical our ceremony was and that they could feel just how much love we both shared for each other. It was an amazing day.
Jess: As Alex mentioned, we held a reveal prior to the ceremony so we saw each other then, which was a really special moment. At our ceremony I walked down the aisle first as I wanted to see Alex coming towards me. Seeing her walk down the aisle just honestly made me feel so grateful – watching the person I love walking towards me to be married, what else in the world could I possible ask for? I was really nervous until I saw Alex but then it felt like it was just the two of us standing in front of our family and friends sharing in the experience together.
Discover more about Bramleigh Estate's wedding ceremony locations on our Ceremonies page.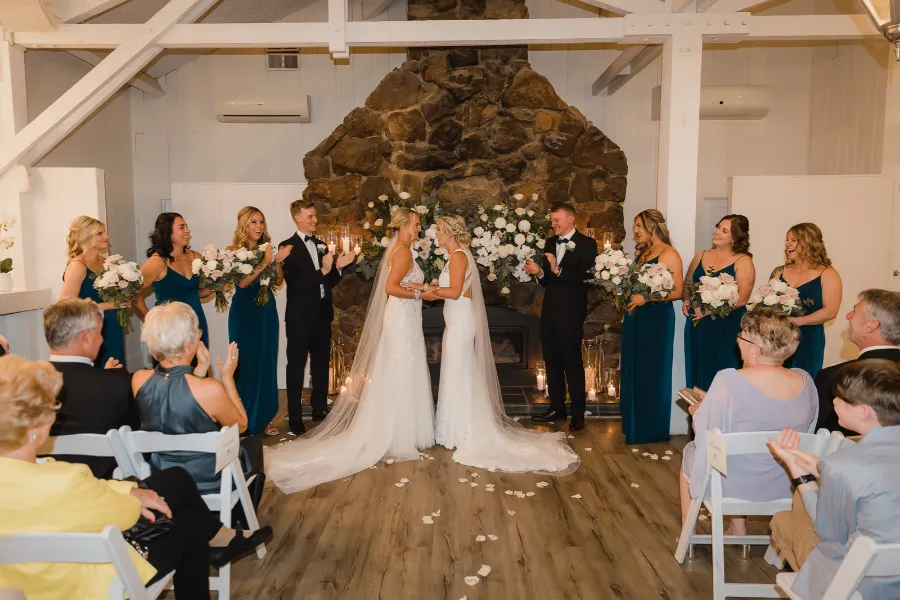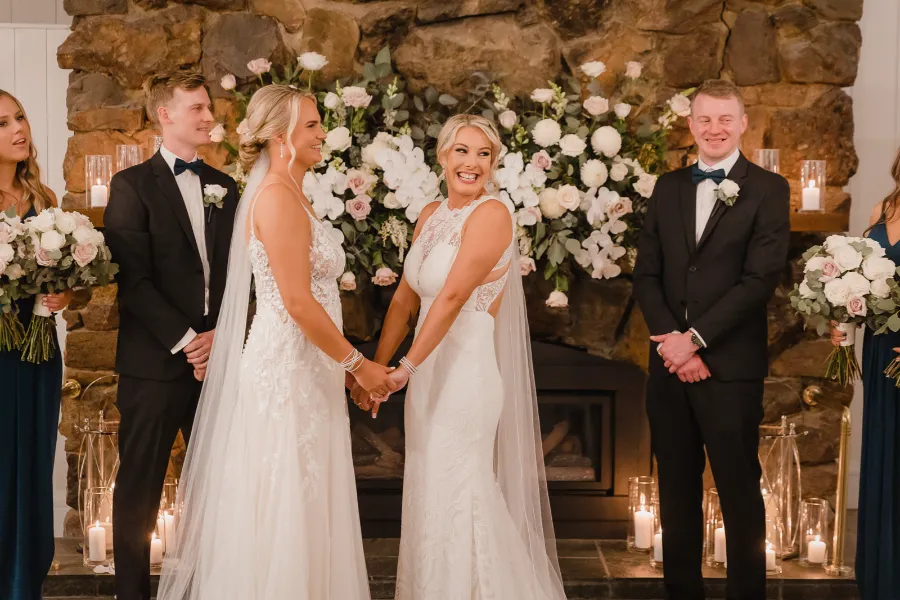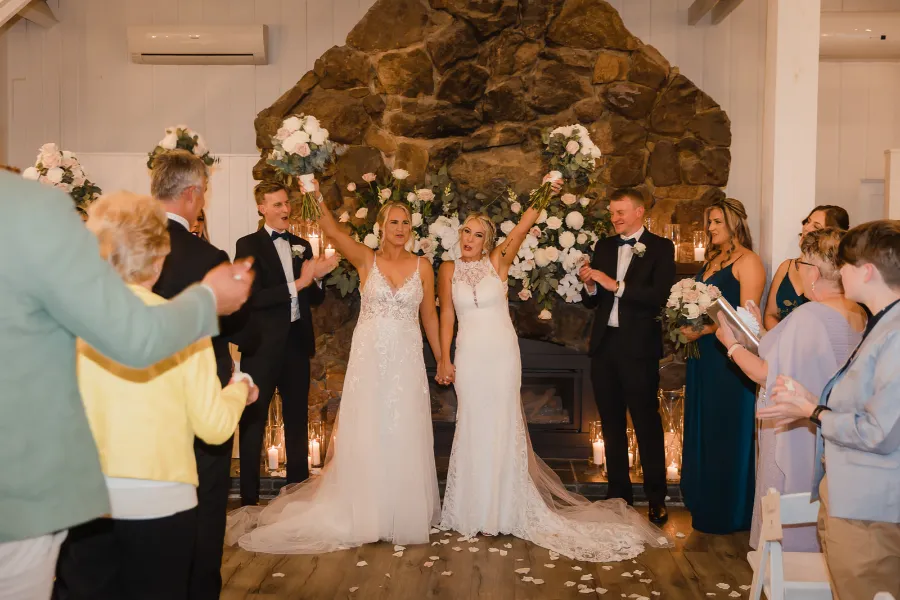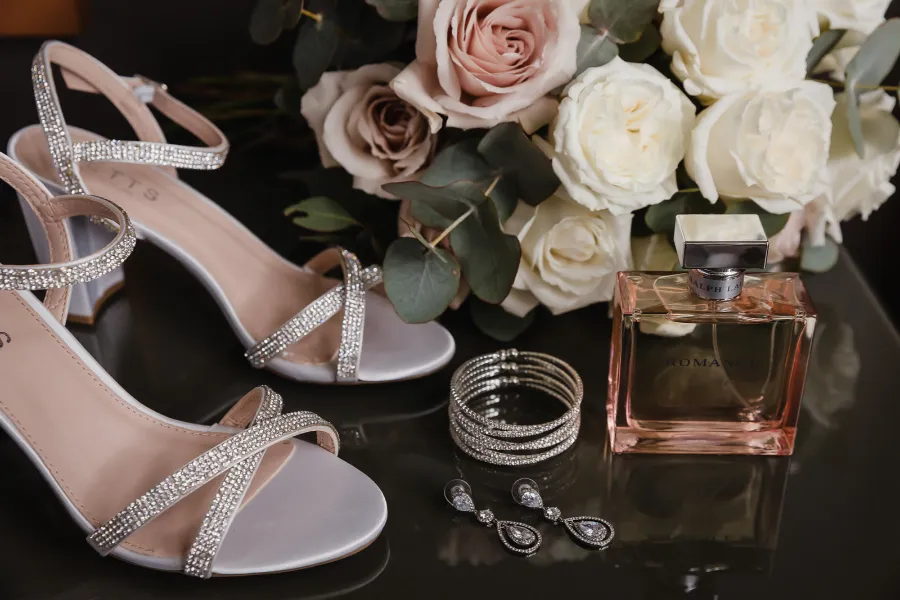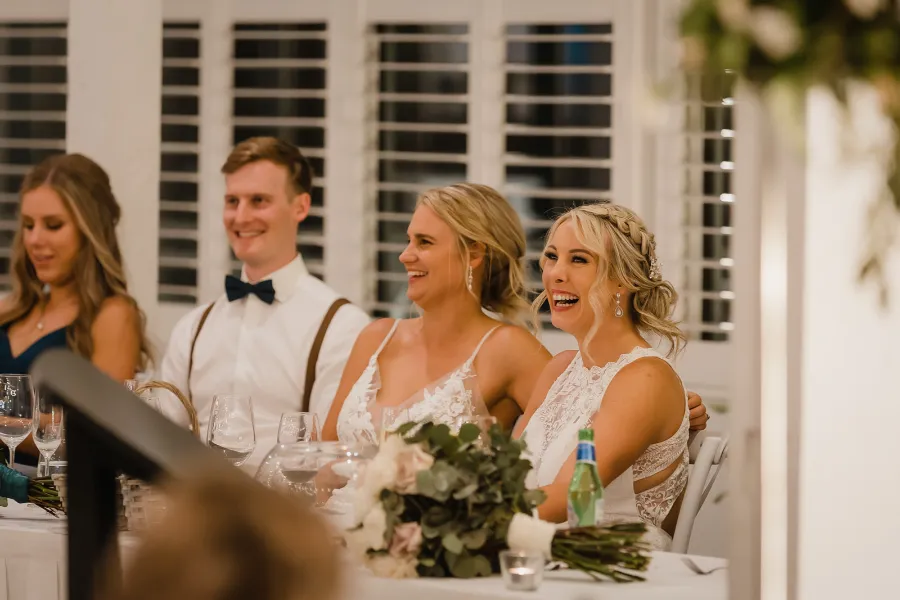 Who were your favourite suppliers on the day and why?
Bramleigh Estate was an absolute favourite for their outstanding customer service, beautiful venue and amazing quality food and wine. They made our wedding planning a breeze from our first consultation through to our wedding day.
Debbie O'Neill was a delight to work with and so helpful with our floral arrangements. Her communication on the day was flawless and she was so accommodating to move our ceremony florals indoors due to the poor weather. Debbie made us feel completely at ease.
Due to unforeseen circumstances our original celebrant cancelled on us a week before our wedding! Thankfully Tim Manger stepped in seamlessly and helped coordinate our ceremony in such an engaging and magical way as well as agreeing to MC our reception. His energy matched our vibe and helped our guests feel relaxed and have such a great time.
Amy Bysouth did our hair and makeup and her team were amazing from start to finish and made us feel beautiful on our special day.
And the Veil provided Alexandra with her beautiful dress and Raffaele Ciuca supplied Jessica with hers.
ATEIA Photography & Video – have you seen our photos and video… AMAZING!
And finally our band Baker Boys Band were sensational and gave just the right vibe for the night.
During the reception while you were sitting at the bridal table looking out at your guests how did you feel?
We felt so grateful to have all the special people in our lives in the one place to help us celebrate our love and our commitment to each other.
Looking back on your wedding day what was the best part?
The best part was the ceremony. Walking down the aisle and seeing each other in such a beautiful setting, surrounded by all of our family and friends whilst being able to read our vows to one another will be a memory that stays with us for a lifetime.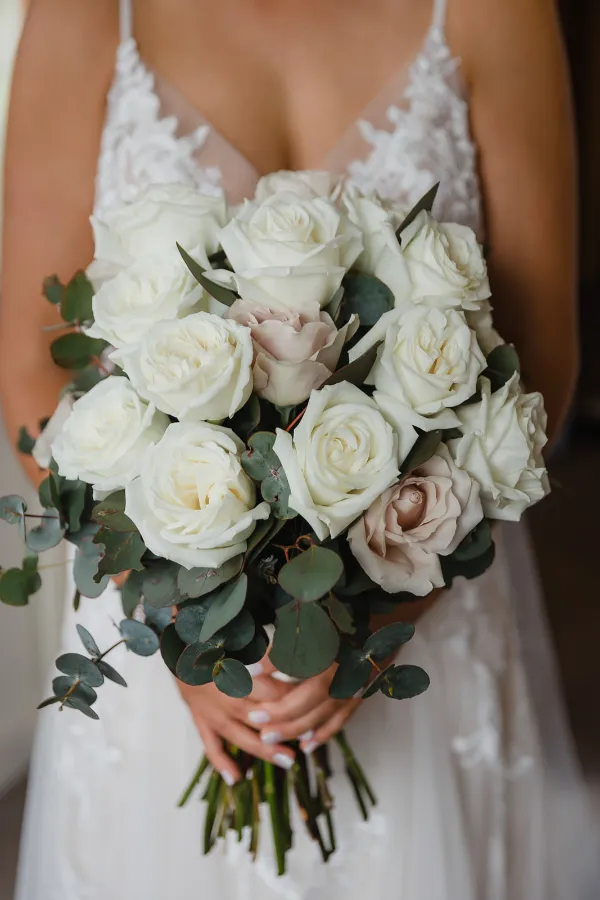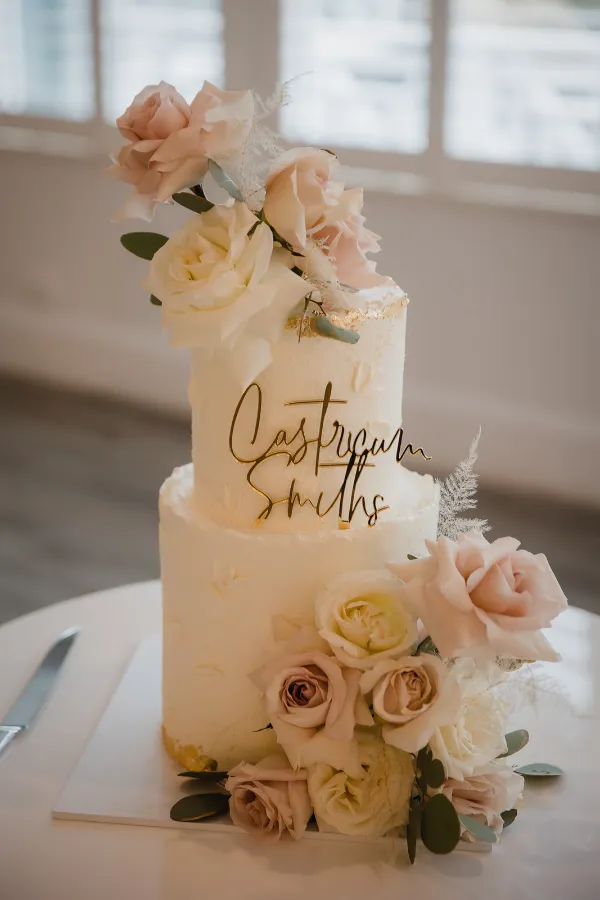 What tips would you give to anyone planning their wedding?
Try to enjoy every moment of the journey with one another, as it goes so quickly!! We know everyone says this, but it is SO TRUE! Make sure you take five minutes to step away together and enjoy the moment with just the two of you.
Pick suppliers that you trust and that will make you feel comfortable and at ease throughout the journey as it all just goes so fast in the end. You want to make sure you can trust your suppliers to do their thing.
How has married life been for you since the big day? What's next for the future?
Married life has been nothing short of amazing. The magic and bliss from the wedding is still something we continue to experience and now we both have a new adventure to look forward to as we are currently pregnant and due in August 2023 with our first child, a beautiful baby boy.
Anything else you'd like to add?
We can't thank Bramleigh Estate enough for the support we received during our wedding planning. The entire team were so helpful through every phone call and email. It's obvious why they're a multi-award winning wedding venue!
Learn more about Bramleigh Estate's Yarra Valley wedding reception venue or download our wedding package. Or why not get in touch with the Bramleigh Estate team to schedule a personalised tour and start planning your own dream wedding.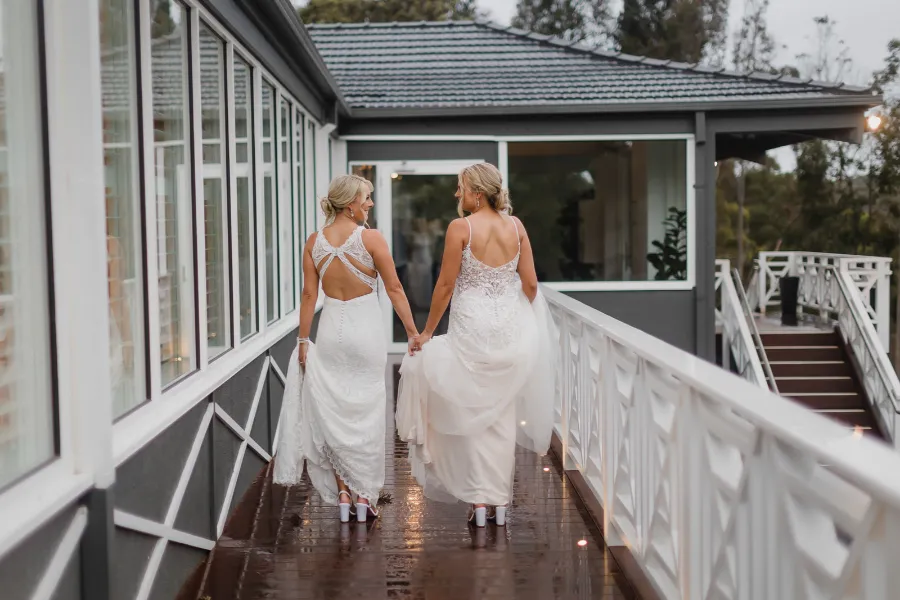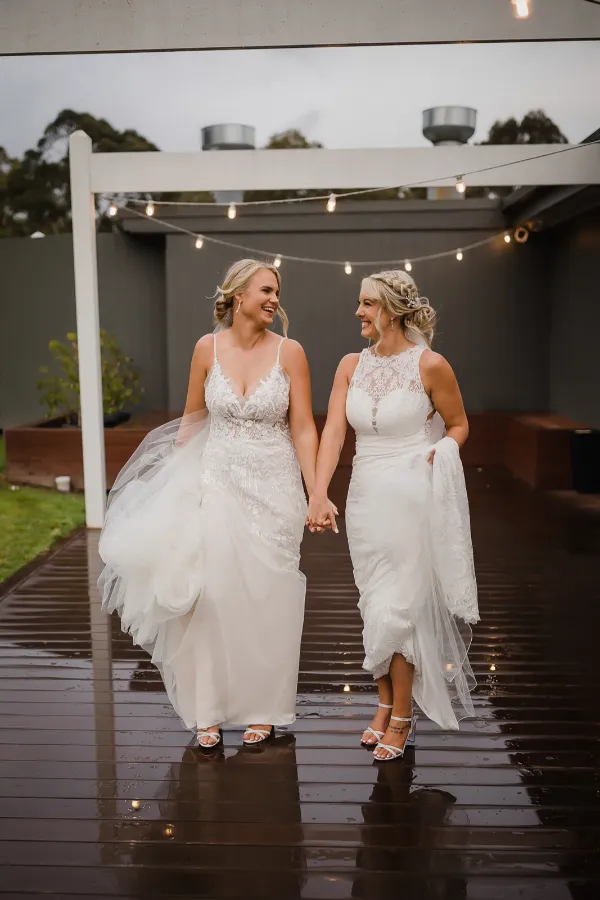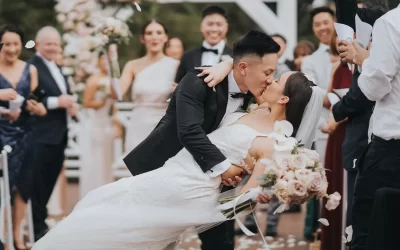 Introducing Emily and Kevin whose luxury wedding at Bramleigh Estate wedding venue was simply stunning! The gorgeous couple married in March 2023 in a beautiful outdoor wedding ceremony and reception.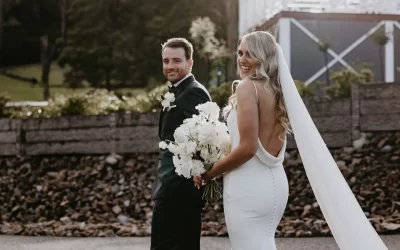 Introducing Teagan and Glenn whose beautiful Melbourne wedding reception at Bramleigh Estate was super fun and stylish!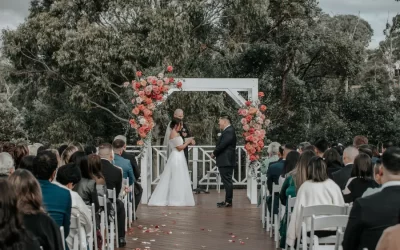 High school sweethearts Simone and Daniel were married in a gorgeous wedding ceremony and reception at Melbourne wedding venue Bramleigh Estate.