Whether you've been dreaming about your wedding since childhood or just started thinking about what your dream wedding looks like, we've got some inspiration to ensure your big day is perfect.
At Bramleigh Estate we offer couples a unique wedding venue with unforgettable views, combined with unlimited support from our experienced team of professional wedding coordinators. We understand that wedding planning can take a lot of time and effort out of your already busy lives and so our team is always here to help you ensure that your Bramleigh Estate wedding is absolutely perfect with every detail taken care of.
Today's blog is filled with wedding planning ideas to ensure that your special day is one that you and your guests will always remember.
Wedding Venue Location
Your choice of wedding venue is one of the most important decisions to set the tone for your day. Whether you are planning a destination wedding or decide to go with a venue close to home, many other elements of your special day will be decided by your choice of location.
Bramleigh Estate's award-winning wedding venue takes a step back into nature whilst remaining only 20 minutes northeast of Melbourne's CBD. With an expansive ceremony deck that offers 180-degree views of our 10-acre property, Bramleigh Estate is the perfect wedding venue in Melbourne for couples seeking a gorgeous location for their wedding day.
We're also only a short trip from beautiful scenic spots along the Yarra River and surrounded by lush bushland – perfect for capturing the romance of your day in your wedding photos.
Wedding Reception Meal
The food served at your wedding reception is undoubtedly one of the most essential elements of the whole event. At Bramleigh Estate, our Hamptons menu is prepared by a team of experienced and award-winning chefs who focus on creating visually stunning and universally appealing food that will stop your guests in their tracks.
Using fresh and locally grown produce, our wedding menu includes everything from grazing tables and canapés to exquisitely presented entrées, main meals and desserts. And it goes without saying that our team will meet any dietary requirement to ensure an unforgettable fine dining experience for every single one of your guests.
Why not download our Hamptons Wedding Package brochure today to learn more.
Wedding Styling Themes and Colours
While your choice of location is absolutely crucial for setting the style of your wedding day, the theme and colour scheme you choose are essential to set the tone for the big day ahead.
Bramleigh Estate's spacious and light-filled reception room has a timeless feel and boasts beautiful white-on-white table decor, exposed beams and soaring ceilings. Our all-inclusive Hamptons package provides all the wedding inspiration you need to style your big day, including tables, chairs, stunning lighting and more to create a beautiful wedding day that runs smoothly and makes a lasting impression.
Our Hamptons-style venue will provide a relaxed and contemporary feel that incorporates natural textures and influences to give a soft and luminous ambience to your wedding. All you'll need is a few finishing touches, like flowers and bonbonniere, to make your wedding styling exactly as you've pictured.
For more wedding styling inspiration from our unique venue, head to our Instagram or Facebook, or YouTube pages to see past couples who have shared their special day in our romantic space.
Guest Numbers
Another vitally important consideration when choosing your wedding venue is its capacity. Whether you're having a small and intimate wedding or a large celebration, it's essential to make sure you can seat all your loved ones comfortably.
Knowing how many guests you plan to invite before looking at venues will save you from headaches further down the track.
Bramleigh Estate's spacious reception room comfortably accommodates between 100 and 350 guests with plenty of room for your friends and family to be able to relax and enjoy sharing in your wedding day.
Wedding Planning Inspiration with Bramleigh Estate
At Bramleigh Estate, our team is here to help make your wedding day a truly memorable event in our beautiful and intimate setting. With indoor and outdoor wedding ceremony options, you can make the most of our stunning space covering 10 acres in the heart of one of Victoria's most beautiful regions. And with our team of professional wedding specialists at hand, you can rest assured that every detail will be taken care of so you can focus on crafting unforgettable moments for your special day.
Discover Bramleigh Estate by contacting our team today to arrange your private tour of our award-winning venue and learn how we can help your dream wedding come to life.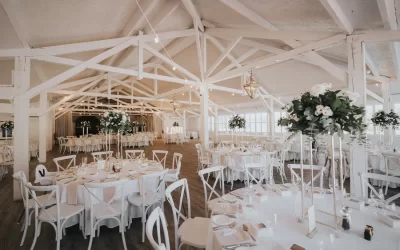 Congratulations! You're engaged and with your long guest list it's time to start looking for your perfect large wedding venue in Melbourne! Here's what to consider to also keep that intimate wedding feeling you've been looking for.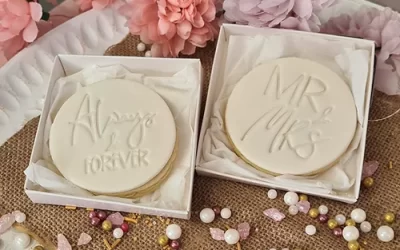 To make sure that your wedding is truly unforgettable, a stylish bonbonniere is the perfect finishing detail that will take your wedding from great to exceptional. Read on to discover our favourite thoughtful and creative wedding bonbonniere ideas.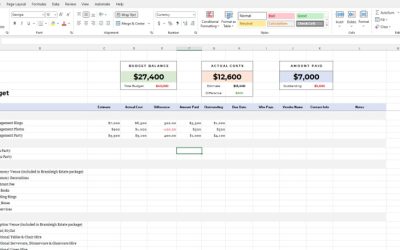 Our free, comprehensive Wedding Budget Template is designed to assist you budget and plan for your wedding and make sure that there are no hidden expenses. Download a copy today!